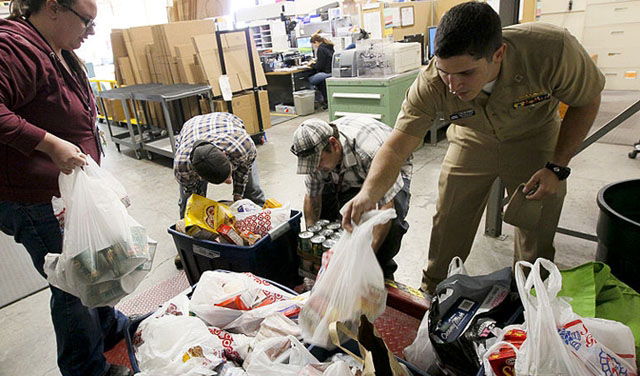 New research shows that a record number of Brits are using food banks, with the figures exceeding 900,000 for the first time.
The Trussell Trust say that 913,000 people have received at least three-days' emergency help over the past twelve months. 
This means a 163% jump in people seeking assistance, a rise that is blamed on rising living costs combined with low pay and welfare payment sanctions.  
The Trussell Trust have more than 400 food banks across the UK with a further two opening every week.
Trussell Trust's chairman, Chris Mould, said: "That 900,000 people have received three days' food from a food bank – close to triple the numbers helped last year – is shocking in 21st-century Britain.
"But, perhaps most worrying of all, this figure is just the tip of the iceberg of UK food poverty.
"It doesn't include those helped by other emergency food providers, those living in towns where there is no food bank, people who are too ashamed to seek help or the large number of people who are only just coping by eating less and buying cheap food.
"In the last year we've seen things get worse, rather than better, for many people on low incomes.
"It's been extremely tough for a lot of people, with parents not eating properly in order to feed their children and more people than ever experiencing seemingly unfair and harsh benefits sanctions."
Mr Mould argues: "Unless there is determined policy action to ensure that the benefits of national economic recovery reach people on low incomes, we won't see life get better for the poorest any time soon.
"'A more thoughtful approach to the administration of the benefits regime and sanctions in particular, increasing the minimum wage, introducing the living wage and looking at other measures such as social tariffs for essentials like energy would help to address the problem of UK hunger."