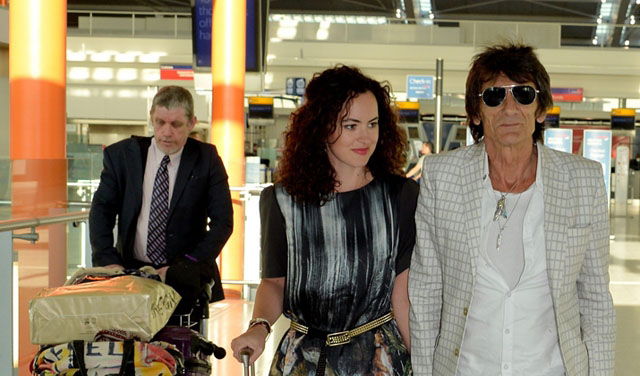 Rolling Stones legend Ronnie Wood has moved to Barcelona with his wife Sally Humphries.
The pair have been settling into their new Spanish home, being seen out and about shopping locally for essential goods and furniture.
For their spot of retail therapy Wood, 65, wore purple skinny jeans with a white T-shirt and turquoise shirt, accessorised with high-top trainers and designer sunglasses. 
Wife Sally, 34, wore a floral-print dress teamed with platform wedges and a denim jacket.
Purchases from the shopping trip included lemon citrus trees, a lamp and, rather mundanely, an ironing board. 
Although sell-out concerts that the Rolling Stones put on last year were thought to be among their last, Ronnie has hinted on Twitter that the band may play again this year, fuelling rumours that the group are set to headline Glastonbury.
During a Q&A session on the social networking site last Sunday, the rocker was asked whether the Stones would play together this year, and he enigmatically responded: 'Watch this space.'