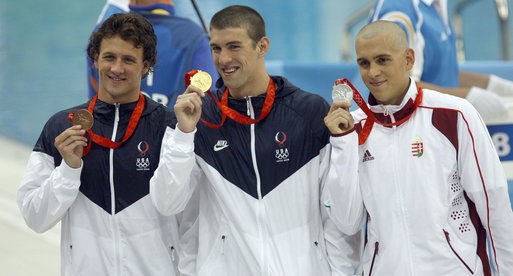 Olympic gold medallist swimmer Michael Phelps, 28, is coming out of retirement and is set to participate in three events later this month.
There are rumours that Phelps, the most decorated swimmer of all time, may be getting ready to make an Olympic comeback at the 2016 Rio de Janeiro Games.
Phelps, who has won 18 gold medals in his career, has not competed since the 2012 London Games.
The US athlete will participate in an April 24-26 meet in Mesa, Arizona, with fellow Olympians Ryan Lochte and Katie Ledecky.
The swimmer's long-time coach, Bob Bowman, said Phelps has entered three events: the 50-metre and 100-metre freestyles and the 100-metre butterfly.
But Bowman downplayed talk of a comeback:
"I think he's just going to test the waters a little bit and see how it goes. I wouldn't say it's a full-fledged comeback."
Phelps retired from competitive swimming after winning four gold and two silver medals at London's  2012 Olympic Games, taking his career tally to 22, 18 golds.
Bowman said that Phelps is just enjoying swimming.
He said: "He (Phelps) doesn't have anything to prove. His legacy is sealed forever and he is just doing it because he loves to swim."