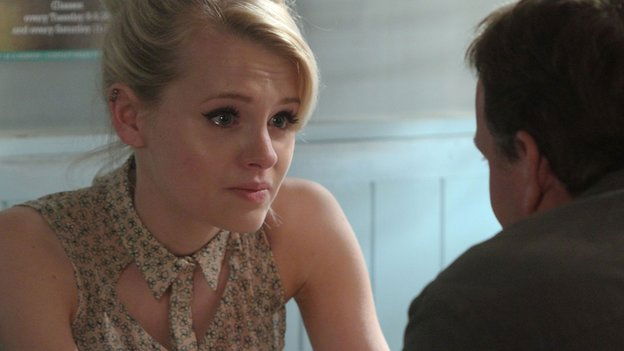 Spoiler Alert: Stop reading if you don't want to know what happens in the BBC soap!
Walford, the setting of BBC soap EastEnders, is about to become a crime scene – and everyone's a suspect.
Ian Beale's daughter, Lucy, is set to be killed off, with the businessman's world collapsing following the police-delivered news that his daughter's body has been discovered on Walford Common.
Fans of the show can expect to see Lucy's lifeless body on Walford common. However, the identity of her killer will not be revealed until next year's anniversary.
In the show, Ian (Adam Woodyatt) is angry when neither of the twins show up to a family gathering organised by Jane (Laurie Brett).
He goes in search of Lucy and, while looking for her, comes across the police heading towards his house to deliver the devastating news.
Beale has to visit the morgue and must then tell Jane, Denise and Lucy's siblings the horrific news.
Lucy's story has been building for months, with the character (played by Hetti Bywater) shocking fans with the news that she was having an affair with the Albert Square love-rat Max Branning.
Hetti filmed her final scenes for the soap weeks ago, and even she is clueless as to who murdered her.
The actress said: "I thought I was 100% and that I had it sussed out in my head. But after talking to everyone else on the cast I'm not sure anymore."
The drama is set to continue after the murder, with the funeral featuring a clash between Max and Ian after the seedy affair comes to light.
And Max is set to help carry Lucy's coffin, which will prove another sore spot for father Ian.
Before the brawl with his daughter's secret lover, Ian will put on an emotional display as he arrives at the chapel with ex-wife Jane, much to the chagrin of fiancée Denise.
The scenes of the discovery of Lucy's death will air on Monday April 21 and Tuesday 22.