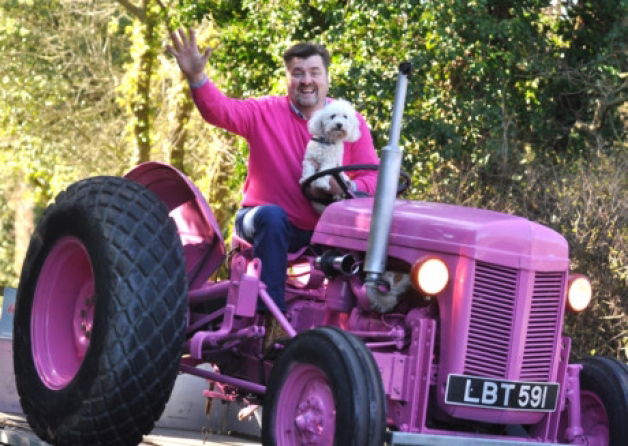 A man who has taken a taste of Spain back to the UK has shown he is a man with a heart.
Rochdale based restaurateur Mark Wickham is a familiar face on the Costa del Sol as he flies in regularly to buy genuine Spanish ingredients for his eatery the Rake Tapas Bar.
His restaurant has turned into a, perhaps unlikely, roaring success. Not many people would have thought of taking a taste of the Mediterranean to the old mill town of Littleborough, home of good plain English food.
But he proved the doom-mongers who said he was mad wrong when the good people of the town developed a taste for chorizo, Serrano ham, tortillas and paella.
Big-hearted Mark was looking for a way to raise awareness, and cash, for the Breast Cancer Care and Awareness charity.
He hit upon a novel idea. He sprayed one of his tractors, a classic vintage 1952 Massey-Ferguson, bright pink, dressed up as Superman and drove cross country covering over 110 miles.
Unfortunately, the gleaming tractor couldn't keep up with Mark's pace and broke down just 30 miles outside his target of Whitby.
Mark is, however proud of his attempt: "The reason I did it was to make people more aware about checking for the early signs of cancer.
"Using a pink tractor, I thought it would make people think. When I started at 5am in the morning it was really foggy, rainy and cold, but the support we got from the people of Whitby was amazing.
One man was driving along, he pulled up a bit sharply and rubbed his eyes, he couldn't believe what he was seeing. Well it's not every day you see Superman driving a tractor!"
Mark's efforts have raised over £1,500 so far and the money is still coming in. The tractor is being repaired and Mark has promised to go back and complete the journey.
The staff at the Euro Weekly News have decided that it is such a good cause they have foregone their traditional Easter eggs and made a €150 donation. So come on EWN readers – you too can dig deep and help the charity.
To donate to Breast Cancer Care – Charity Number 1082293 visit: http://www.justgiving.com/Mark-Wickham.