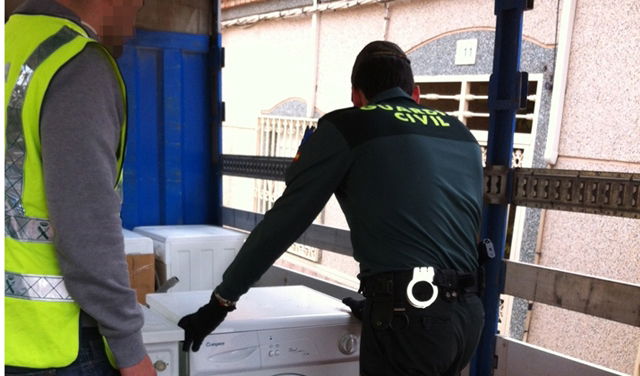 The Guardia Civil surprised robbers while they were in the middle of burgling a block of 14 homes. 
Those held worked in broad daylight and in view of the neighbors, who thought they were assisting a tenant moving.
Telephone operators at the Command Services Centre in Almeria (COS 062) received a report that several people were acting suspiciously in the area, loading goods into a van outside the block of flats in the urbanisation of Almerimar, El Ejido.
Police were on the scene within minutes, and observed two persons removing goods such as washing machines, refrigerators, ovens and ceramic hobs from the properties which were used by their owners as a second residence or intended for rent.
The Guardia Civil went on to arrest five persons in total, each with specific roles within the organised operation.
After these two first arrests, the Guardia Civil began to collate and fully clarify the facts, leading to identifying the five members of a new group formed to commit burglary.
They were also able to locate the premises in Vicar where the stolen goods were being stored, the owner of which had been coordinating the group and was responsible for recruiting the other members.
The Guardia Civil were able to detain and disrupt this gang, just as they were beginning their organised criminal activity.
Proceedings instructed by the Guardia Civil, along with the detainees, have been delivered to the Trial Courts in El Ejido.