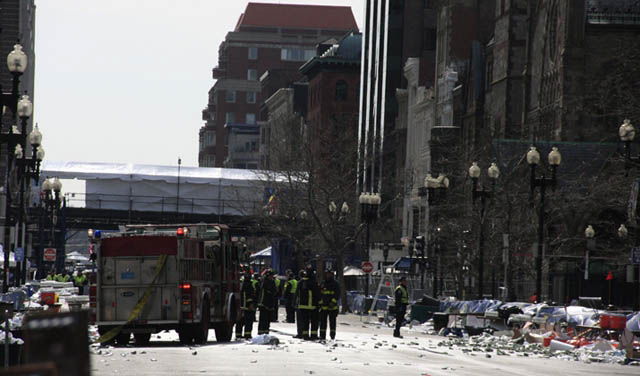 Russia has dismissed claims it failed to provide intelligence about one of the Boston Marathon bombing suspects.
Moscow has categorically dismissed reports that it failed to provide information before the Boston attacks, and alleges that Washington is attempting to shift the blame.
Just this week it was reported that a US government review concluded that Russia had ignored FBI requests for more information on Boston bomber suspect Tamerlan Tsarnaev.
The New York Times said that the review appeared to exonerate the FBI of any wrongdoing.
On April 15 2013 the Boston marathon was the prime target for terrorists, who planted two bombs to explode simultaneously at the finishing line. Three people were killed and more than 250 were injured in the attack.
But Russia has hit back at the review claims, with the Foreign Ministry releasing a statement that read:
"It seems that they are trying to push responsibility onto us. If that's true, it's a low blow.
"Given the anti-Russia campaign being waged in the US, due to the events in Ukraine and Crimea, we do not rule out that someone is trying to exonerate the American special services, which did not see that a terrorist attack was in preparation."
Moscow argued in the statement that the Russian authorities had "transmitted their conclusions" on Tsarnaev "well ahead" of the attack. They claim that this information was "not studied in the correct way".
Tamerlan Tsarnaev was killed by police shortly after the bombings, while his brother, alleged co-conspirator, Dzhokhar Tsarnaev, faces the death penalty for his supposed role.
The Tsarnaev family is from Russian republic Dagestan. America is seeking the death penalty for Dzhokhar's alleged role in the terror attacks.
Dzhokhar's trial begins this November. He has pleaded not guilty to 30 charges relating to the bombings. Seventeen of these charges carry sentences of death or life imprisonment.