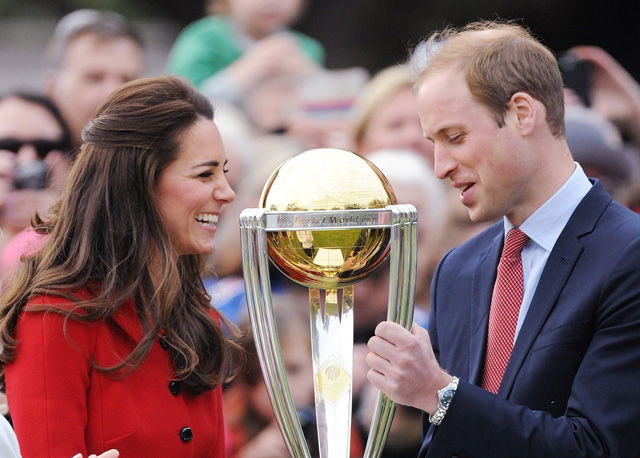 The Duke and Duchess of Cambridge have taken part in a number of sporting events during their tour, with yachting and rugby on the royal agenda.
Kate came first in the yachting race while husband William was victorious in the rugby game.
But the pair took their sporting rivalry to the cricket pitch in Christchurch, during the latest leg of their New Zealand and Australia tour.
And Kate was eager to wow the crowd, stepping up to bat first in her smart red skirt suit and three-inch heels.
At the event, which was to promote the 2015 Cricket World Cup, William sought some advice from New Zealand cricket legend Sir Richard Hadlee before bowling.
While in the city, the royal couple placed a stone at the Christchurch earthquake memorial, CTV Building Memorial Park.
They paid their respects to victims of the 6.1 magnitude earthquake that struck on February 22, 2011, killing some 180 people.
William and Kate met with families of some of those who died in the disaster.
William also took the opportunity to sympathise with the people of the Solomon Islands who have experienced two major earthquakes in recent days.
William said: "Here in Christchurch, I recall in 2011 hearing first-hand about the courage of ordinary members of the public, first responders, the Student Army and many others in the aftermath of the devastating earthquakes.
"Both Catherine and I have found ourselves moved this morning by the reminders of how awful the second earthquake was, striking as it did out of the blue in the middle of an ordinary day.
"Something similar has now struck our neighbours in the Solomon Islands. I know that all of you will join with Catherine and me today in passing on our thoughts and prayers to the people of the Solomon Islands at this very difficult time for them."