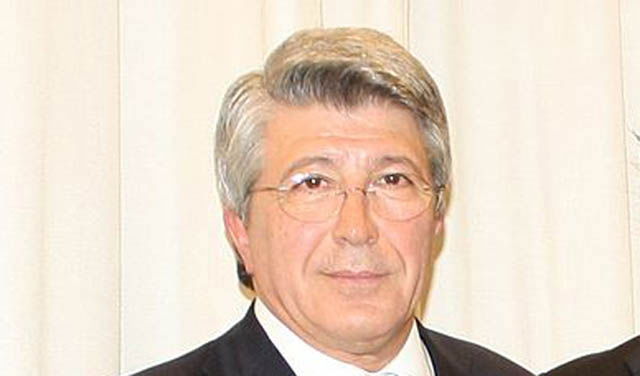 Atlético Madrid President Enrique Cerezo has confessed that a deal has yet to be reached with Chelsea over goalkeeper Courtois.
Cerezo says that nothing has yet been agreed with the UK team to allow Thibaut Courtois to play in the upcoming Champions League semi-final. 
Last week UEFA intervened in the dispute between Atlético Madrid and Chelsea and ruled that the Belgian goalkeeper, who formerly played for Genk, will be allowed to play against his parent club.
Following the ruling Chelsea Chief Executive Ron Gourlay insisted that Courtois can feature 'if selected' by Atlético Madrid manager Diego Simeone.
However, Atlético, the current La Liga leaders, are hoping to extend the loan of Courtois from Stamford Bridge for another season, and it seems that the Spanish team are hesitant of getting on the wrong side of Chelsea.   
Chelsea manager Jose Mourinho is said to be keen for Courtois, who is already being called one of the best goalkeepers in the world, to sign a new contract at his club.
Prior to their La Liga clash with Getafe Cerezo told the press: "I do not know how many times I have to repeat this.
Courtois is a Chelsea player loaned to Atlético Madrid this season. We're trying to get them to give him to us for another season.
"If we reach an agreement with Chelsea he will play, because he is a Chelsea player and we are gentlemen and we deliver on what we sign.
"I am convinced that he will play because there will be an agreement between Atlético Madrid, Chelsea and the goalkeeper.
"And if, in the end, he does not play, then Aranzubia will do it."