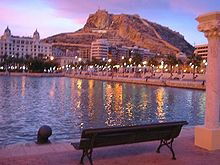 The Valencian Community has established itself as the leading autonomy in Spain for foreign home sales in the last quarter of 2013, with 33.6% of the national total and 13,436 transactions.
Of these 13,436 housing transactions in the Valencia Region in the fourth quarter of last year, a total of 4,281 (31%) were acquired by foreign residents in Spain, with a total of 424 non-resident foreigners.
A massive 83% of the sales were in Alicante province.
Andalusia had the second highest foreign property sales with 19.9%, followed by Catalonia with 15.5%, the Canary Islands had 11.3% and Balearic Islands 6.5%.
Citizens from the United Kingdom, Germany, Netherlands, France, Norway, Sweden, Finland, Belgium and Russia, were the main foreign buyers for holiday homes or permanent residence.