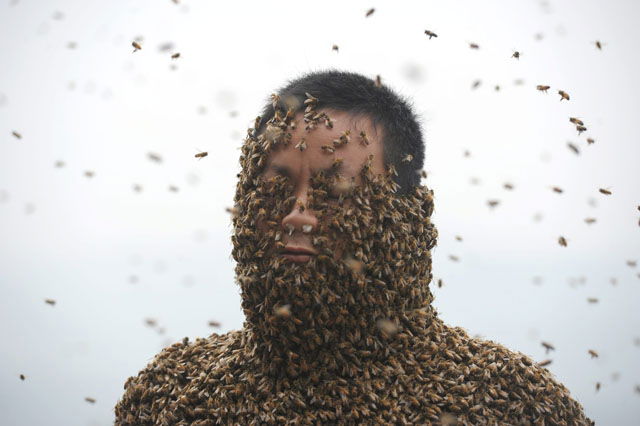 A Chinese beekeeper covered himself with over 460,000 bees for a publicity stunt aimed at promoting his honey.
The honey merchant from Chongqing, She Ping, 34, covered himself in bees that collectively weighed more than 100 pounds, using a technique known as 'bee bearding'.
Ping said: "To be honest I felt very nervous, but I do it to promote my honey. I'm used to dealing with bees… and started these activities when I was about 22.
"It hurt but I didn't dare to move. The main preparation is avoiding taking a shower, especially avoiding using soap because it can excite the bees."
Mr Ping was stung more than 20 times during the 40-minute publicity stunt.
Recently, Chongqing has emerged as something of a hotspot for bee bearders, with several other local honey merchants joining in the craze and displaying signs showing bee-covered sellers.
Bee bearding participants usually attract the bees by wearing a small cage which holds a queen bee.
Currently Indian Vipin Seth holds the Guinness world record for wearing a beard of bees weighing 135 pounds.