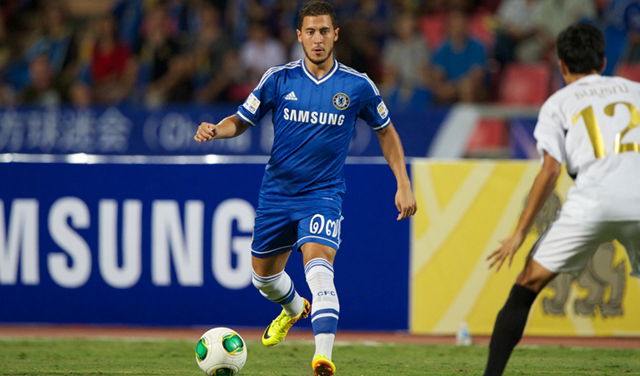 Chelsea player Eden Hazard says that his playing style is closer to that of FC Barcelona's Lionel Messi than Real Madrid's star player Cristiano Ronaldo.
Belgian Hazard, who has been vital this season to manager Jose Mourinho and the Chelsea team, has attracted a lot of interest from big-spending teams.  
Hazard's impressive performances have meant that teams like Paris Saint-Germain would like to snap him up.
Hazard has said recently that he is developing his skills all the time and would ideally like to join Ronaldo and Messi as one of the best players in the world.
In an interview with Sport, Hazard was very modest, saying: "If I had to choose, I'd say my body type and style of playing means I'm closer to Messi.
"Ronaldo is more of an athlete – he's good at everything. He runs fast, he's strong. So I would say I'm closer to Messi. But obviously I don't score as many goals as he does."
On Tuesday Hazard left the pitch at Stamford Bridge with a calf injury during the first half of Chelsea's Champions League quarter-final victory over PSG.
Without Hazard, already being hailed as a world-class player, Chelsea may be in store for a setback at a pivotal point of their Champions League campaign.
There's also a Premier League showdown at Anfield against Liverpool just around the corner to start thinking about.