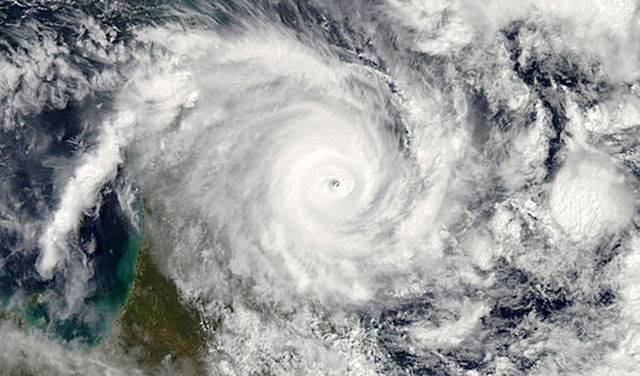 Thousands of people have been told to leave their homes in Australia as Cyclone Ita hits coastal towns along the country's Great Barrier Reef.
Australia's Bureau of Meteorology said the cyclone made landfall at Cape Flattery, Northern Queensland, today (Friday).
They said: "(Ita) is crossing the coast near Cape Flattery with very destructive winds up to 230kph (143mph) near the core and gales extending out to 185km (112 miles) from the centre."
The storm is predicted to move further south over the coming hours, hitting the coastal resort of Cooktown with winds of around 80mph.
Although the storm has now been downgraded from a maximum level five to a weaker level three storm, Cooktown residents have been told to prepare for the worst as the area is a prime target.
The town's residents have reportedly been warned by a police spokesman: "The Cooktown you see today won't be here tomorrow".
Around 30,000 people have been told to evacuate and a warning zone has been extended beyond Cooktown to Port Douglas and Cairns.
The cyclone is predicted to travel further south following the hitting Cooktown, with experts believing that it will gradually weaken over the weekend.  
Queensland Premier Campbell Newman said: "It's still a destructive cyclone which has very strong winds."
Newman said that the region is "staring down quite a destructive cyclonic event".
Authorities have warned that the storm is likely to bring strong winds and heavy rain leading to flash flooding. It is anticipated that power supplies will be hit.