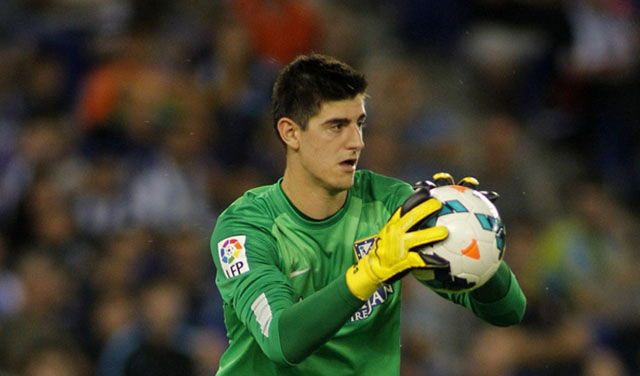 Chelsea was said to want £5million from Atlético Madrid if the Spanish club wanted to play on-loan goalkeeper Thibaut Courtois against them in the Champions League.
But, fortunately for Atlético Madrid, who are set to face Chelsea, it seems that Courtois, who is said to be desperate to face the UK club next week, will be allowed to play following a UEFA intervention.   
However, it's not all good news. Jose Mourinho is said to have set his sights on Atlético's Diego Costa and there are rumours that Chelsea might ask the Spanish club to knock £5m off the £35m price asking price.
Ahead of the draw for the semi-finals in Nyon today Chelsea warned that the Spanish team would have to pay if they wanted Courtois, one of the best goalkeepers in the world, to play against them.
Although Belgian Courtois, 21, who will represent his country at this summer's Brazil World Cup, has yet to play for Chelsea, he has been earmarked as Petr Cech's successor. 
The keeper, who joined Chelsea from Belgian club Genk in 2011, has impressed in this year's Champions League and La Liga tournaments, holding off players like Neymar and Messi.
Atlético recently disclosed that there is a penalty clause in place in Courtois's contract which could cost them £5m – but they admitted that they can't afford to pay. 
Prior to the teams being drawn against each other there was speculation that UEFA officials would come under pressure to investigate the financial arrangement.
Courtois has been on loan at Atlético for three seasons but the club's president, Enrique Cerezo, told Spanish radio after the team's quarter-final triumph over Barcelona that they would be 'unable to pay' the fees, which were part of the loan agreement.
Atlético Madrid, Real Madrid, Bayern Munich and Chelsea have made it to the Champions League semi finals.
The other Champions League semi-final sees Real Madrid face holders Bayern Munich.