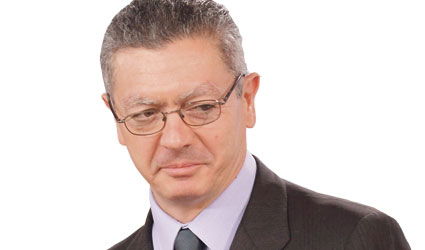 ALBERTO RUIZ-GALLARDON, minister of Justice, was considered something of a liberal until he became Minister of Justice. Possibly he had a road to Damascus moment that led him into a cul-de-sac but at least he makes a convenient whipping-boy for the government.
Rejection of his abortion reform plans does not abate but Ruiz-Gallardon could be using an old conjuring ploy, because while everyone is talking about abortion they're not looking elsewhere. 
So not many people noticed that between 2012 and 2013 the minister pardoned 10 public administration employees found guilty of corruption. Nice piece of sleight of hand.
Times have changed
ARE they still at it? A Guardia Civil lieutenant colonel organised a luncheon at the Valdemoro barracks (Madrid) last February.  
His 81-year-old father, a former Guardia Civil lieutenant colonel, attended with several contemporaries.
So far, so normal: what might be regarded as an old farts reunion. But the surname of son and father was Tejero and the older man was a conspirator behind the failed coup d'état of February 1981 who later served 15 years of a 30-year prison term.
Other plotters were allegedly present but Tejero Jr gave orders not to register guests' name although one emerged, that of Capt Jesus Muñecas Aguilar.  Now 77, he told the invaded parliament chamber to await the arrival of "the competent military authority" and later spent five years in prison.  
The younger Tejero has been removed from his post by the Ministry of the Interior and the Guardia Civil, whose upper reaches were unaware of the luncheon, described it as "inadmissible."
Whoever gave the game way must have been a Guardia Civil insider. That's something that would never have happened 33 years ago.
Squaring up for a fight
SELECTING the Partido Popular's party presidents in Andalucia and the Basque region became a wrist-wrestling match between Soraya Saenz de Santamaria and Dolores de Cospedal.
Saenz de Santamaria is vice-president of the national government and De Cospedal who is the PP's national secretary general is also regional president of Castilla-La Mancha.
Splitting power between rivals in this way is the type of solomonic solution that president Mariano Rajoy is comfortable with, but another struggle is in the offing.
Decisions must be made regarding the candidates for Madrid mayor and Madrid regional president in the 2015 municipal and regional elections. Neither woman has yet made a move but as they say, "you ain't seen nothing yet."
Dues and views
LUIS ORTEGA ALVAREZ, a Constitutional Tribunal (TC) judge believes that political affiliation in judges should be prevented by law.
He was referring to Francisco Perez de los Cobos, another TC judge who was formerly a paid-up member of the PP, but the argument has a specious echo.
Paying party dues might demonstrate commitment, but political inclinations don't change just because a subscription has been cancelled.