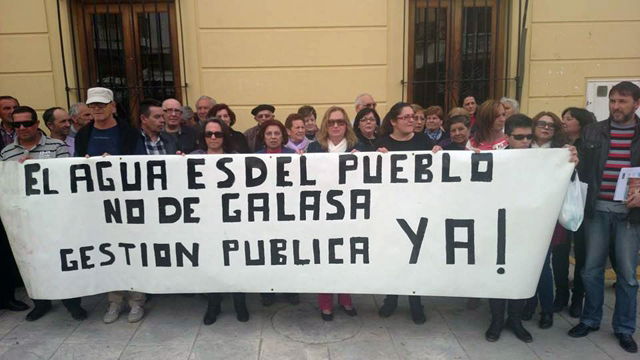 The PSOE in Cantoria has taken up a residents' fight for the water to be managed by the council, rather than a private company, and made it their own.
Around 50 people demonstrated in the main square with a banner that read: "The water belongs to the people, not Galasa, public management now!"
Galasa is the private company which has taken over the management of the water supply in the village.
The residents of Cantoria have explained that they want more information about the takeover of the water systems as they fear that their bills will go up.
They went on to explain that the vice-president of Galasa gave a talk to the village after which there were many doubts, on the side of the residents, about whether or not their bills would go up and how the private management of this important resource would affect them.
They will continue to demonstrate every Wednesday as, according to the PSOE, their bills could rise by as much as 285%.
The mayor, Gaspar Masegosa, denies that the water will go up and calls on residents to look at the bills that have already come through.
Residents are surprised that the PSOE is fighting on their behalf as, originally, it was them who handed the water management over to Galasa in 2000.