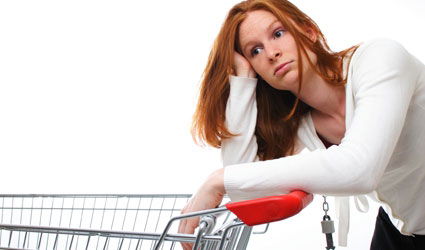 A tongue in cheek look at a state run supermarket…
MERCADONA'S 1,470-chain of super-markets is now Forbes listed. Its president, Juan Roig, is Spain's fourth richest man and the chain is said to carry a €3.47 billion price tag.
Curious, I wondered how the chain would fare if brought under public control. Will we still have an appetite for Mercadona…
"My day didn't get off to a promising start.
The entrance to the store's car park is now accessible by a security barrier for which one needs an online purchased token. A kindly motorist, having decided to shop elsewhere, came to my rescue by offering his token. 
Car spaces nearest the supermarket's doors were reserved for staff but street parking is available.   
What was to follow gave me much food for thought. Having waited patiently in a queue, uniformed staff enquired if I had a ticket. It appeared necessary to make an appointment to shop.
Being my lucky day I was offered a slot by a customer who, having to pick the kids up, offered me her ticket. I could now shop.
Having used the store when privately owned I recall it was efficiently managed by about 10 friendly staff. No longer the case.  
Nothing ventured, nothing gained I queued for my trolley. First a little paperwork to be dealt with. There was a fee to be paid, a trip to the bank and production of an ST1R bank receipt in duplicate. I get to keep a copy. Proof of identity was required for which thankfully I had my NIE, padron and driving licence plus duplicate photo-copies.
Finally free to roam the over-staffed aisles I smiled at an elderly lady with large melons. "This is expensive." I smiled as I held my cucumber up for her to see.  
"Oh yes. They were 85c but are now €3.95. If you want a receipt it is extra."
"Nuts," I replied.
"They are over there."  
"No, I mean they are nuts. How do they justify such an increase in price?"
"Everything has quadrupled in price," she smiled. "The govern-ment bought the store at four times its value. Extending it by 200 metres, they sub-let the car park and built new access toll roads. There are several sub-offices. Then there is the security screening and the quadrupling of staff. It all adds up you know," she smiled resignedly.
Having made fewer purchases than usual I was to learn that one does not choose a check-out. A desk operative, one of several, checks your purchases and then directs you to the caja point. 
Each of the store's 10 check-outs were manned by staff who appeared bored, de-motivated and in one or two cases hostile. Asking why, the teller told me she didn't like the job but took it on because it was impossible to fire her. A relative had got her the position. Yes, it all makes sense now."