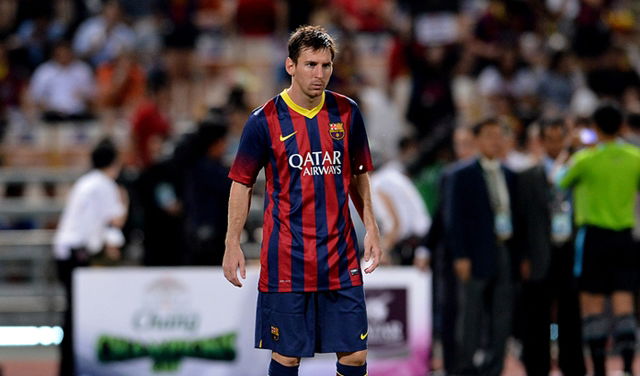 FC Barcelona crashed out of the Champions League last night (Wednesday), losing to rivals Atlético Madrid 1-0.
This was the first time in seven years that the Catalan giants have failed to reach the last four stage of the Champions League, with their opponents Atlético Madrid reaching the semi-finals for the first time in 40 years. 
Barca manager Tata Martino looked understandably downcast as he responded following the match to questions, mostly about Messi's uninspired performance.  
Martino said: "The team is very down right now but we have to pick ourselves because we have a league to win." 
Prior to the match Diego Simeone's side were dealt a heavy blow with Chelsea target Diego Costa failing a late fitness test.
But any fears that the team would be defenceless without star player Costa proved to be unfounded. David Villa played fantastically, keeping his Barcelona opponents in check throughout the game.
In the first half, Barcelona struggled to even stay in the game – but by the second half it was basically all over.
Atlético's Koke scored the game's only goal, the nail in the coffin of a Barcelona win.
Many are arguing that Messi and his lack of real involvement was the main cause of the defeat. The usually dynamic striker had no impact against Atlético, with manager Martino saying:
"We weren't really interested in Leo having a lot of participation in the game. We really only wanted him to have one-on-one opportunities down the right-hand side."
The Atlético Madrid defence proved too much for Messi and Neymar time after time. Superb goalkeeping from Courtois also shattered any dreams of a Barcelona win.
Barcelona players like Neymar and Marc Bartra looked heartbroken, with a tinge of disbelief that their Champion League ambitions were brought crashing to a halt.  
Following the game the winners soaked up the atmosphere in the stadium, enjoying the sweet taste of victory. But Atléticowon't be complacent following the victory.
Manager Diego Simeone said: "The story is not over yet. There was a lot of happiness in the dressing room after the game but it doesn't finish here."
Addressing rumours that Costa could be headed for Chelsea Simeone said:
"We can't compete financially with many of the other teams but from a competitive point of view we are a match for anyone."
To appease their supporters Barca need a win at next week's Spanish Cup Final but with players like Gerard Pique struggling for fitness and Victor Valdes out they start the game as clear underdogs.