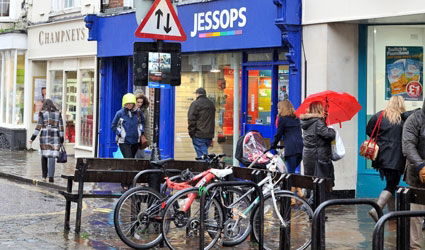 Recent news that UK discount chain, Poundland, has floated on the stock market and wants more shops than Sainsbury's should come as no surprise, given the squeeze other high street retailers have experienced during the recession.
Retail experts believe Poundland's plans demonstrate a permanent shift in British shopping habits with discount retailers the biggest winners from the recession. Poundland itself has expanded from over 200 shops five years ago to 500 today, with such an increase in sales that it plans expanding into Europe, with 10 stores here in Spain.
So, while other high street retailers continue to struggle for survival, discount leader Poundland is booming thanks to clever business tactics, marketing techniques and price comparisons used to appeal to its shoppers. With a new store opening every few days, its stock market value is almost £1 billion.
Whenever I return to the UK, though, it's hard to see on the average British high street anything but discount shops like Poundland, charity shops, bookies and payday lenders where once there were butchers, bakers, greengrocers and fishmongers. What were once family-run shops have been driven out of business with the result that every town centre now looks much the same. 
Why? Partly, it's the result of out-of-town supermarkets which, with competitive prices and free parking, undercut the high street. The high rents and business rates imposed are also a factor in driving out small, independent businesses, a situation not helped by local councils with exorbitant parking charges and fines.
Now, there are many who say that if you'd rather still go to a butcher's, a baker's, a green-grocer's and a fishmonger's, fine -they're still around. They go on to say they simply don't have the time it would take, plus they like the choice and free parking supermarkets offer. And if city centres are ghost towns, it's because they don't provide what people are looking for. You could just as well say the production of the motor car destroyed the occupation of blacksmiths who no longer have to shoe horses.  
True. But who really wants to visit identikit towns with identikit shops and discount chains?
Nora Johnson's thrillers (www.nora-johnson.com) avail-able from Amazon. Profits to Cudeca.