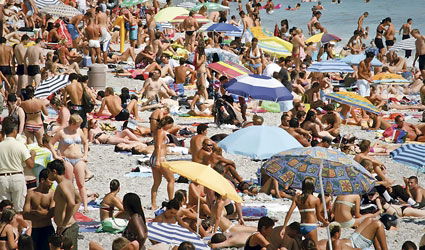 IT'S that time of year again. The sun is starting to warm enough to expose some bare skin, beaches are slowly becoming populated by more than dog walkers, while rural roads are becoming practically impassable as cyclists in their skintight gear ride four in a row. 
It is, of course, the start of the tourist season again. 
While I appreciate that this is, on the whole, a good thing for the communities that we live in, it is with some trepidation that some of us hand over the mantle of those beautiful beaches, rugged landscapes and city streets to the hoards of holidaymakers that are about to descend over the coming months. 
The usual errand sprint around town becomes painfully slow as aimless, map-wielding crowds block my race pace, that is if I manage to find somewhere to park in the first place. 
Even if I can zip past them, the touts will be out in force with all those designer knock-offs that last about two minutes and will probably get seized in customs on the unsuspecting tourist's return journey. Then there are those chirpy restaurant people who attempt to persuade you to eat or drink in their establish-ment, practically blocking your path and mistaking lewd comments for an appropriate marketing campaign.   
Sadly, none of us need a crystal ball to foretell the summer's newspaper head-lines; more balconing death falls, more destruction of property by the drunken and disorderly and Magaluf becomes officially reclassified as a zoo. 
It's enough to make you nostalgic for 'las calmas de enero' (a meteorological expression but seems fitting in this context, too). The calm before the storm.
Of course, you can't judge all tourists by the same yard-stick, many are delightful – in fact, most of my friends and family spend their holidays on these southern shores.
Tourism accounted for nearly 11 per cent of Spain's economic output in 2012, a figure which rises dramatically in the coastal and island regions, and provides more than 900,000 jobs. 
In 2013 Spain had 60.6 million international visitors and hoteliers are reporting good bookings for 2014. 
So it might be worth taking the opportunity now, while there is still time and a quiet spot on the beach, to enjoy the best of what our adopted home country has to offer.
Enjoy those quiet walks in the hills, get a same day reservation at your favourite restaurant and go see a concert or other performance. Do it soon – before the circus comes to town again.