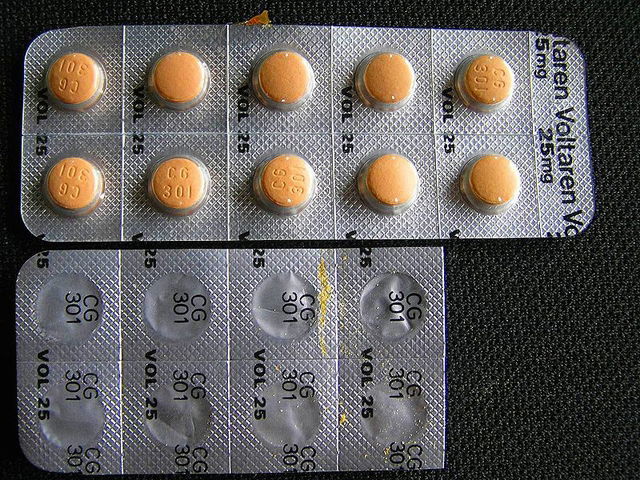 Painkillers that are used by millions of British people every day have been linked to a higher risk of having an irregular heartbeat which could trigger a stroke.
Dutch researchers have concluded that the extra chance of developing atrial fibrillation is as high as 84%.
The condition is a leading cause of first-time strokes. It results in the upper chambers of the heart being out of rhythm and beating much faster than normal, allowing blood to pool and clot.
Around seven million Brits with arthritis take prescription painkillers, including non-steroidal anti-inflammatory drugs (NSAIDs) like diclofenac and ibuprofen, along with newer medication called coxibs.
The researchers tracked the heart health of 8,423 people aged 55 and older since 1990 in Rotterdam.
The research, published in medical journal The Lancet, found naproxen was the safest NSAID.
Bruno Stricker, of Rotterdam's Erasmus Medical Centre, said previous research had thrown up a link between atrial fibrillation and these painkillers.
Stricker said: "Our results also suggest that the increased risk occurs shortly after starting treatment and may disappear over time." 
Professor Colin Baigent, of Oxford University's clinical trial service unit and epidemiological studies unit, said: "This study is consistent with previous reports indicating that some NSAIDs increase the risk of atrial fibrillation.
"Atrial fibrillation is just one of several cardiac hazards associated with NSAIDs, the most important of which is an increased risk of heart attacks.
"Although NSAIDs are very effective for the treatment of pain, it is important that both risks and benefits are considered carefully before they are prescribed."
Just last year Oxford researchers found that high doses of NSAIDs can increase the risk of heart attacks, strokes and heart failure.
In the UK Ibuprofen can be bought from pharmacists and supermarkets, along with Voltarol tablets containing diclofenac, but at lower doses than on prescription.