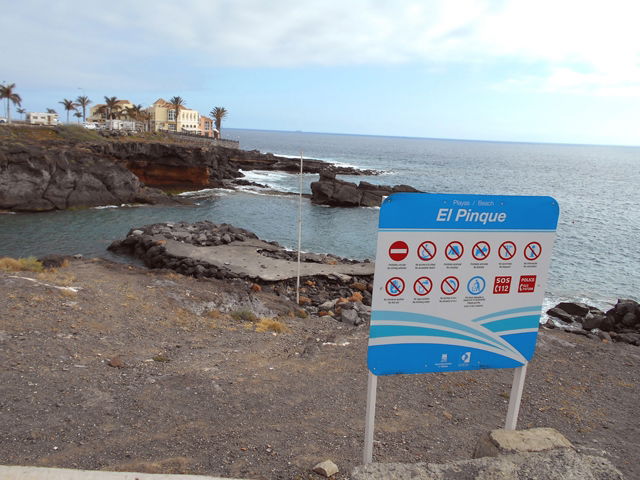 By Colin Kirby in Tenerife
Life is precious, no one knows that better than Adam Cramer, he took his three children on holiday to Playa Paraiso, Tenerife to recover four months after having a five kilo tumour removed from his abdomen.
So when he saw a young girl in a family group swept into the sea by a big wave he dived in to save her. A young boy and two adults from related familes were saved as well but two female British doctors died.
"I just thought what if that was one of my children" the chartered accountant from London told me. It happened just after 6pm on Sunday 6 April just round the rocky coast from raw shingle beach El Tinque.
A sea swimmer on regular visits to the nearby Roca Nivaria Hotel, Adam timed his moment just right.
"I dived into a big wave and swam away from the white foaming water hitting the rocks to get behind the young girl (14 year old Hari) and got her to cling onto my neck as I swam towards the beach with her on my back. She was very brave and kept talking to me and thanking me all the time. Someone lowered a life aid on a rope to save me swimming the full distance and pulled us out."
The two killed have been identified as Barathi Ravikumar, a GP at Bracebridge Heath health centre in Lincoln, and Uma Ramalingham, a consultant obstetricion at the Royal Oldham Hospital in Greater Manchester.
The group were all staying at a local villa and had been on an outcrop of rocks a short distance from the Adeje 300 coastal promenade that links Playa Paraiso with Callao Salvaje.
When the alert was raised Adam's children Jasmine 12, Isabella 11, and Benji eight were in the hotel pool, he ran the few yards from the complex to the promenade.
"People were shocked but not sure what to do, after I went in the police arrived and then a while after the rescue services and a helicopter. One lady was winched up but the other was attended on the sharp rocks."
Part of the attraction of the west coast area is its rugged beauty and many people go out on the rocks to fish or to take photos.
At 8pm on my visit the following evening, despite it being dusk, several people including families had taken the adventurous risk. El Tinqe beach and the area near the rocks where the tragedy happened both have large warning signs that state there are no life guards.