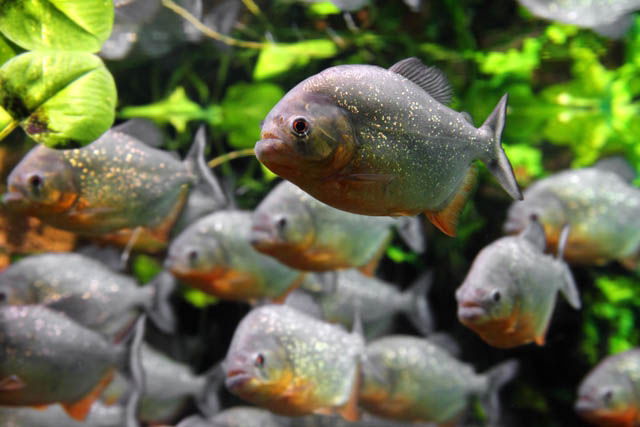 Homeowners in Telford were stunned to discover piranhas inside their blocked drains.
Half a dozen piranhas were pulled from a Midlands sewer after residents complained about an unpleasant and fishy odour.
Council workers found the flesh-eating tropical fish, which were all dead, in a drain leading to the houses yesterday (Monday).
It is believed that the fish, which are native to South America, were being kept as pets before being flushed down the toilet.
Piranhas have been known to attack – and even kill – humans. Although they are not very big (usually 14cm to 28cm long) they can cause a lot of damage with their knife-like teeth, especially when a whole shoal of them is attacking prey.
Locals have voiced concerns that more of the fish, which are renowned for their voracious appetite for meat and razor sharp teeth, could still be alive in the sewage system.  
Local butcher Jim Hoult, 56, told The Daily Mail: "I might well be checking beneath the toilets seat before I go to the loo now."
Two of the workmen who went to investigate the smelly sewers for Severn Trent, Matt Final and Jay Slater, said many of the fish were several inches long.
Mr Final said: "We've certainly seen some weird things in the sewers over the years but we were just a bit shocked to remove piranhas.
"It is just one example of amazing things we find blocking the sewers, but there is a serious aspect to this as they had the potential to cause a lot of damage."
Severn Trent Customer Operations Manager Sue Fulford, said: "The drains that take waste water away from your home are only a few inches wide and are only meant to take water, toilet roll and human waste – certainly not piranhas."