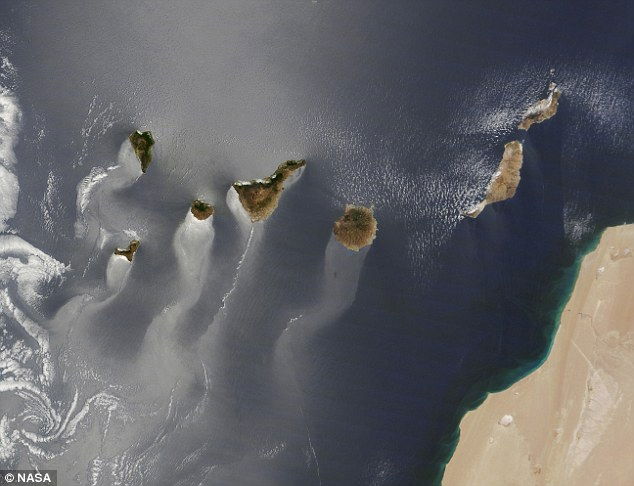 A spectacular satellite shot of tides around the Canary Islands has scooped the 'Earth shot of the year' title.
NASA's Earth Observatory has been running its second annual photo competition, pitting incredible satellite images of Earth against each other.
NASA chose 32 of the best satellite images of earth from 2013 and then asked the public to select a winner.
The winning image is a stunning shot of the Canary Islands. The photo of the islands, off the northwest coast of Africa, was captured by the Moderate Resolution Imaging Spectroradiometer on NASA's Terra satellite in June 2013. 
The winning image, titled 'Trailing the Canaries,' shows the chain of islands with wake lines behind them, making it appear that the islands are sailing smoothly through the ocean. 
The ocean haziness is the result of sunlight glinting off the water and reflecting back at the satellite, along with the wind and resulting wave patterns. 
More beautiful images can be found at NASA's Earth Observatory.