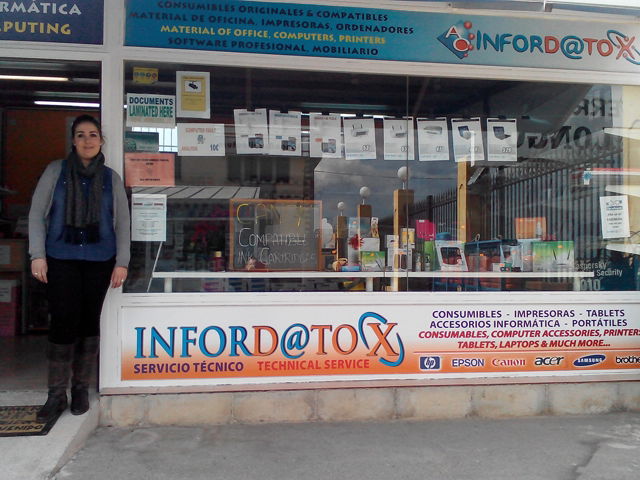 [email protected] is your shop in Albox for all your computing needs.
You can find them at Longo's Square next to Colin the Card, The 1 Stop Pool Shop and The Book Box.
Infordatox is four years old and is now run by Raquel who studied at the University of Derby.
Raquel speaks good English, so you'll have no problems being understood!
At Infordatox you'll find a huge range of computer accessories, Android boxes and dongles, ink cartridges both original and compatible, printers, tablets, cameras, laptops, computers, lots of internet accessories and much more.
If you have problems with your computer, don't worry, there is excellent technical service offered so pop in and talk to Raquel.
In fact, personal service is the standout at Infordatox, where clients deal directly with Raquel as the owner.
From how to configure your new tablet to how to get your device properly connected online to installing new ink cartridges, Infordatox places utmost priority on making sure clients get what they need in terms of service and helpful information.
For repairs, sales and technical service, Infordatox has it all, and with truly personalised service.
Deals on printers, tablets, laptops are always being run so have a look for what's on offer.
And if you are like other clients that always ask, "What smells so good in here," the answer is their new air fresheners!
You'll find a great range of scented diffusers and air fresheners on sale for your home or car.
For more information call 950633223 or find the shop on Facebook.
Infordatox is open Monday to Friday, 9am-2pm and 4-7.30pm as well as Saturday 10:00am-2:00pm.
Crta. Lorca-Baza, km 73
04800 Albox
950 633 223
www.infordatox.com