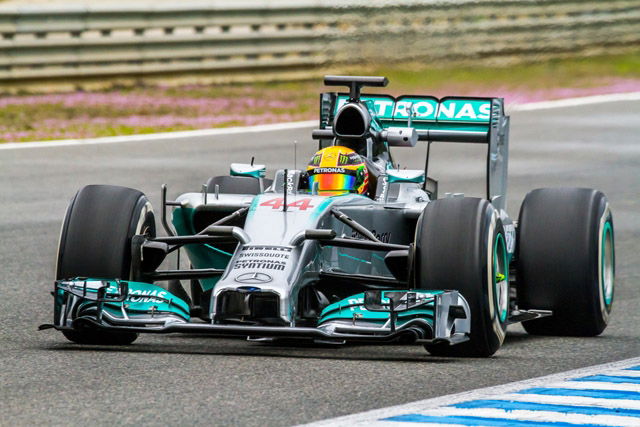 Lewis Hamilton has claimed victory at the Bahrain Grand Prix.
The Brit held off fellow Mercedes driver Nico Rosberg to triumph in Bahrain in what is being hailed as the F1 race of the century.
The two, who were in a league of their own, went head-to-head from the very start of the race, with Hamilton starting second on the grid to Rosberg.
The results mean that Mercedes celebrated a 1-2 victory in as many races.
Following the thrilling race Rosberg got out of his car and rugby tackled Hamilton. The German admitted: "I strongly dislike losing to Lewis."
Rosberg said: "I strongly dislike finishing second to Lewis but on the other hand it was the most exciting race I have ever had in my whole career.
Today was a day for the sport. I hope you all had a lot of fun. The team played it as fair as they possibly could today. Let us race flat out. I don't think you need any more evidence that we are here to race and there are no team orders."
An overwhelmed Hamilton said "I remember our first race in karting. Nico was leading all the way and I overtook him on the last lap. I thought that would happen to me today.
"Nico drove fantastically well throughout, very fair. He was very fast on the option tyres at the end. I was on a knife edge throughout but it was great fun."
Aside from the dynamic duo at the front of the race, the rest of the proceedings were action-packed.
Esteban Gutierrez's Sauber went into a 360 degree somersault when he was flipped by Pastor Maldonado's Lotus.
On lap 47, Mercedes co-team boss Paddy Lowe got on the radio to Hamilton and Rosberg and warned: "make sure you bring both cars home".
A frantic battle for third place was won by Force India's Sergio Perez. Red Bull's Daniel Ricciardo came in fourth.