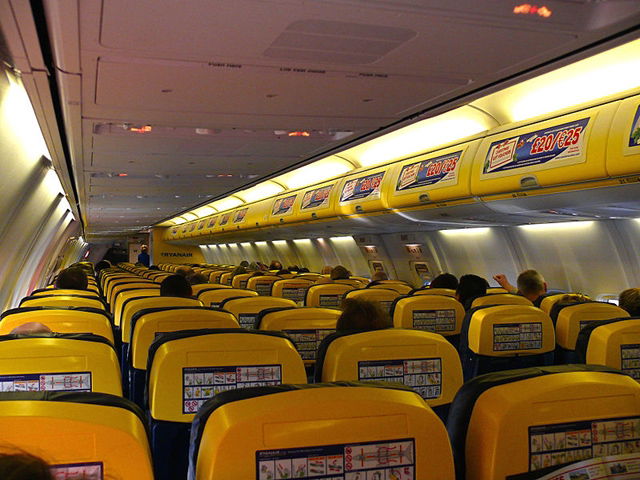 Updated: A bride-to-be got into a fight with one of her bridesmaids on a Ryanair flight to Spain. 
The bridesmaid, Katrina Hanafin, 33, has made an official complaint to police over the attack by bride-to-be Kelly Lloyd, 30, during the hen-weekend trip.  
The mid-air scrap took place on a flight from Manchester to Barcelona on Thursday. The group were on their way to Lloret de Mar.  
Reportedly, Miss Lloyd has been captured on CCTV throwing punches in what could have been a scene from 2011's smash-hit comedy Bridesmaids.
Mother-of-three Miss Hanafin, who is scared of flying and had taken a diazepam before the flight, said that she has now pulled out of the wedding.
Miss Hanafin said that she was left covered with cuts and bruises following the attack at 30,000 ft and had to go to A&E. 
Speaking to The Daily Mail, she said. "I was sat down the whole of the time and was attacked by them. I'm not sure what even led to fight on the plane. 
"There were crossed words, along the lines of [Kelly] saying nobody wants to sit with me and the next thing I knew I was being punched from behind on the side of my head. 
"I was sat in the middle of two girls in a row of three so I couldn't do anything. All I could do was curl up in a ball while I was rained blows over my face, arms, shoulders and legs and my hair pulled, as I tried to cover myself. 
"After that I asked the cabin crew to move me. I didn't want to be a part of the hen party after that."
Miss Hanafin booked a flight back to the UK as soon as she arrived in Barcelona. The hen party are believed to be returning home today (Monday).
Miss Hanafin said: "It is absolutely appalling what has happened to me. I have been nothing but nice to Kelly and her two sisters and her friends and this is how she repays me. The wedding is in May but I certainly will not be going. No way."
A passenger filmed the incident. In the video Miss Hanafin can be heard screaming at the steward: "She started it. She started it. Her you t***. Then, pointing at the bride, she shouts: 'There's CCTV Kelly. CCTV."
It has also come to light that the bride-to-be, Kelly Lloyd, is a former benefits cheat who wrongfully claimed £28,000 in income support over a three-year period.
Miss Lloyd was convicted of benefits fraud in 2012 after failing to tell authorities that her partner, Lee Brennan, had moved in with her.
Miss Lloyd pleaded guilty to failing to alert the Lancaster City Council to a change in circumstances and avoided prison as she was given a 12-month community order.
Her husband-to-be, Mr Brennan, is believed to be in Magaluf, Majorca, with his friends.