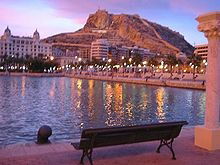 A British man has been found dead on a Spanish beach.
Francis Brennan, 25, who was believed to have been kidnapped by men posing as police officers in Alicante, Spain, has been found dead.
Mr Brennan left the UK ahead of a sentencing date last October for an assault he committed in the Thames Valley area in 2012.
Merseyside Police have confirmed that his body has been found on an Alicante beach.
They said that family members have been informed and that authorities in Spain are investigating.  
Mr Brennan was last seen in Alicante on January 24 2014.
Related stories: