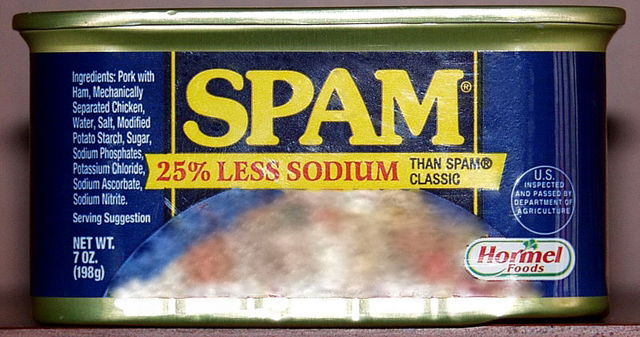 According to New York restaurateurs spam is back in fashion.
Trendy restaurants all over the Big Apple are serving up the wartime staple in sushi dishes, salads and even straight out of the tin.
Spam, which consists of pork, salt, water, potato starch, sugar and sodium nitrate, was first introduced in 1937 by Minnesota-based food manufacturer, Hormel.
Spam is being served to US gourmets with a twist at New York Sushi Ko, who are offering guests the tinned meat on their $150 tasting menu.
The tinned meat treat is a somewhat cheaper option than most fancy restaurant ingredients, costing around $2.50 per 12oz.
Head Chef and co-owner John Daley admitted that he likes to use the tinned meat mix in his recipes. He says the quirky ingredient has created quite a buzz in the city. 
King Noodle in Flushing, Queens, and Onomea, in Williamsburg, also offer guests spam, with both eateries combining it with fried rice recipes.
Brooklyn's Suzume is also a fan of the processed meat. Mike Briones, who runs the restaurant, has also witnessed unprecedented demand for the 'pink stuff', which is named after the shortened version of 'spiced ham'.
Suzume also serves the spam as a sushi dish, with thick slices of the processed ham placed on sticky rice, with a ribbon of dried seaweed binding the concoction together. The treats are priced at $3.50 apiece.   
 And even though it's only taking off in New York now, this Japanese-inspired Spam snack has long been popular in Hawaii, where it is affectionately known as 'musabi'.
Spam, nicknamed the 'Hawaiian steak', is widely eaten across the island and so popular that it can be ordered by diners at McDonald's and Burger King.
Although it's best remembered as a war-time ration with a long shelf-life, Spam has evolved, with newer versions including 'Teriyaki' and 'hot and spicy' Spam. It is also available as a spread.