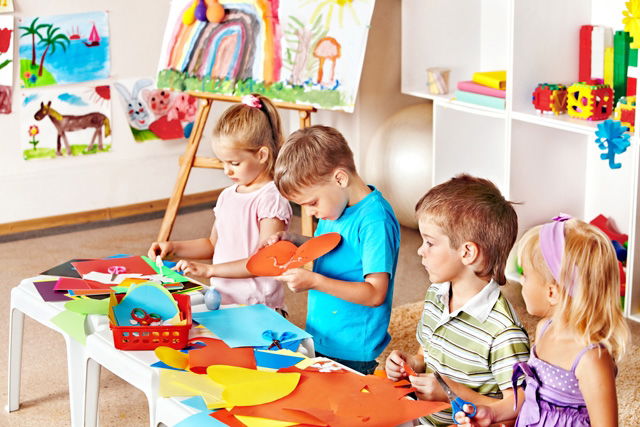 The UK's head of Ofsted has said that every parent in the country should be issued with a ten-point checklist of skills that their children have to master before their first day at school.
Sir Michael Wilshaw has said that too many children start school with a lack of basic skills.
He said that many youngsters start their education unable to use the toilet, follow simple instructions or even make themselves understood.
Sir Wilshaw, while launching Ofsted's first report into early-years education, said that while many parents 'intuitively' teach children the vital skills they need, others fail to do so, forcing their offspring to struggle at school.
He claimed that a list of 'essential skills', such as sitting still, listening, understanding the words 'no' and 'stop', would help parents ensure their children are ready and equipped to start primary school.  
He also argued that there should be more places for two-year-olds at school-based nurseries, particularly for youngsters from poorer backgrounds, to help them catch up with their wealthier classmates.
Talking to childcare professionals in London, he revealed that across the UK, only a third of children from low-income backgrounds reach key development milestones by the age of five.
He said: "The poorest children are less likely to be able to follow instructions, make themselves understood or manage their own basic hygiene.
"By age five, many children have started reading simple words, talking in sentences and can add single numbers. But far fewer of the poorest children can."
He also attacked the 'middle-class' idea that structured learning is damaging for young children, saying "Let us not pander to those who think childhoods are being stolen. It is a middle class prejudice for which some of the most disadvantaged pay the price."
Early years consultant Nancy Stewart told Sir Michael: "There is a lot of evidence about what counts in children's later success and it is not putting on your shoes and going to the toilet, or even being able to recognise your name.
"It is things like being confident, being curious and motivated. 
"We need to be careful when we look at what are we saying are the essential things to be ready for school but also to be life-long learners."
The checklist:
To sit still and listen
To be aware of other children
To understand the word 'no'
To understand the word 'stop' and the fact that it could mean danger
To be potty-trained
To recognise their own name
To speak to an adult and be able to ask for help
To be able to take off their coat and put on shoes
To talk in sentences
To open and enjoy a book