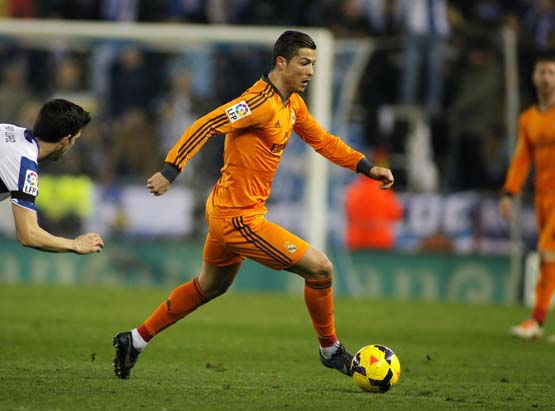 Spain giants Real Madrid were triumphant against Germany's Borussia Dortmund last night (Wednesday), securing a 3-0 victory and almost assuring themselves a fourth successive semi-finals appearance.  
Gareth Bale scored the opening goal, slotting the ball past Dortmund goalkeeper Roman Weidenfeller in the game's third minute.
In the 27th minute Isco dashed any hopes the opposition may have had, scoring the team's second.
It was a joyous occasion in particular for Cristiano Ronaldo, who equalled FC Barcelona rival Messi's record of 14 goals in one Champions League season.  
The Portuguese star was not on top form, as he has been struggling with an ongoing knee injury. However, his injury did not stop him from scoring the all-important final goal, assisted by Bale, in the second half of the game.
When the star left the home-side pitch 10 minutes before the end of the match – his 100th Champions League game – supporters in the Bernabeu enthusiastically applauded him.
Ronaldo, who has scored in his last eight Champions League games, also matched Argentinian player Alfredo Di Stefano's 49 goals in the European Cup record.