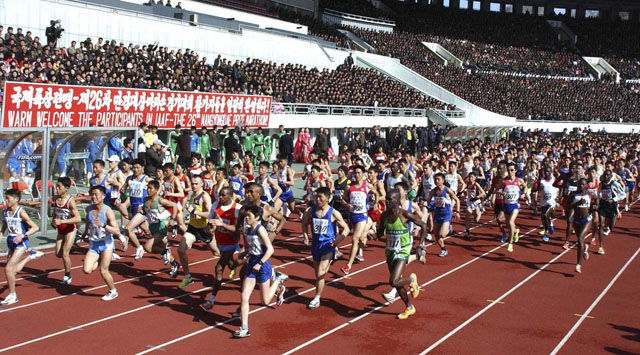 Pyongyang has invited international athletes to race in the city, but those who fail to finish in four hours will be led back to the start.
The capital of North Korea, the world's most secretive state, will open its doors to tourists by allowing foreign runners to compete in its annual marathon.
However, there is a catch. Amateur athletes opting to take on the 26-mile tour of the capital must cross the finish line within four hours, or they face being led back to the 70,000-seater Kim Il Sung Stadium where the race begins.
Despite this harsh threat, tourism companies have been inundated with foreigners vying for a spot in the April 13 event.
The race will offer a rare glimpse into life in the mysterious North Korean capital. It will commence at the stadium named after North Korea's first leader, Kim Il Sung, before passing a number of landmarks including the Monument to Chinese Soldiers, Kim Il Sung University and the Taedong River. The runners must lap the circuit four times to complete the race.
The Mangyongdae Prize International Marathon has previously only been open to a select group of elite athletes, with men and women required to finish the race within two hours 27 minutes and two hours 38 minutes respectively.
Beijing-based travel agent Simon Cockerell said: "I think a lot of the attraction is the Pyongyang part rather than the marathon part.
"A lot of the people going along to take part are interested in simply doing something a bit unusual, something that would cause a bit of (discomfort) among friends of theirs when they tell them they ran a marathon in North Korea."