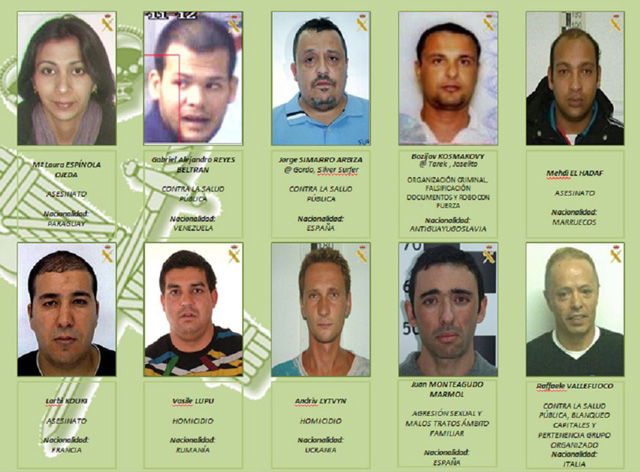 Spain's Guardia Civil have released their list of top 10 most wanted criminals.
The Guardia Civil has appealed for help, asking colleagues from around 20 countries for assistance finding the dangerous individuals in question.
This step has been a first for the law enforcement agency, which doesn't usually issue international requests for help.
They distributed the list – which includes two Spaniards – at a press conference held in Madrid yesterday (Monday).
Commander Oscar Esteban gave out the list which includes the mug shot, description and criminal history of each fugitive.
He explained that the organization was asking international police bodies and concerned citizens for their cooperation "because of the seriousness of the crimes and because of the difficulty locating them."
Esteban also held a short presentation for each of the 10 criminals, nine men and a woman. The Spaniards are Juan Monteagudo Marmol, who is wanted for sexually abusing his daughter and battering his wife, and Jorge Simarro Arbiza, wanted for drug trafficking.
The other fugitives on the list are from Paraguay, Romania, Venezuela, Ukraine, Italy, France, Morocco and the former Yugoslavia. They are wanted for crimes ranging from murder to mafia activity.
Esteban said: "They are 10 of around 500 individuals with international arrest warrants against them in Spain.
He admitted that they could be "in any other country."