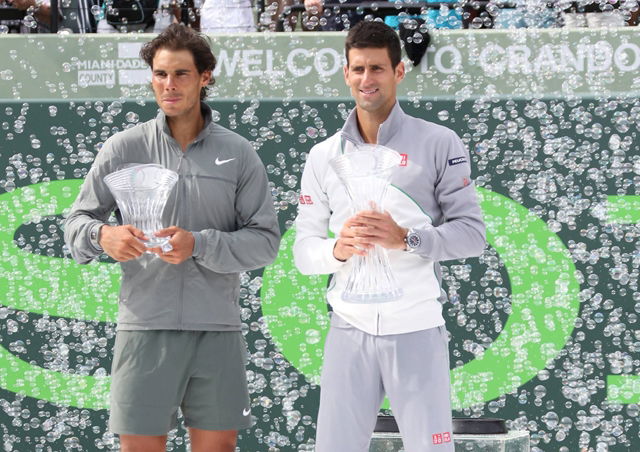 Novak Djokovic defeated Spain's Rafael Nadal 6-3 6-3 on Sunday to win Indian Wells and the Miami Masters for the second time at the 2014 Sony Open Tennis Miami finals.
Djokovic is only the second man to achieve the Indian Wells and Miami Masters double twice in successive years.
The Serb joins Swiss player Roger Federer in managing the double two years in a row.
Federer took the double in 2005 and 2006.
Djokovic first won the double in his standout year of 2011, where the player had a winning streak of 41 matches without defeat.
Sunday´s match saw a tentative start for Djokovic, as Nadal seemed on top form. However, it wasn't too long before the Spaniard appeared under pressure and off balance.
Djokovic gained momentum and went from strength to strength, ending with an impressive rally and his fourth Miami Masters title (2007, 2011-2012).
The winner said: "It's been a fantastic tournament, a very enjoyable time – as it always is in Miami.
"I played a great match, from the start to the end everything was working really well. It's always a challenge and a pleasure to play against Rafa.
"Back in 2007 I won my first big title here in Miami and I have the greatest memories from this centre court."
Nadal has, thus far, failed to capture just three of the nine ATP World Tour Masters Series titles – Paris, Shanghai and Miami.
Nadal was a good sport about losing out and said: "I want to congratulate Novak and his team, he played an amazing two tournaments in a row."
Rafa said: "Winning Indian Wells and Miami is very difficult to do. In no other tournament have I lost this many finals, but it's always a very special tournament for me. The energy and passion from the crowd is unforgettable."
Between the pair of them Nadal and Djokovic hold all nine of the ATP World Tour Masters 1000 titles.