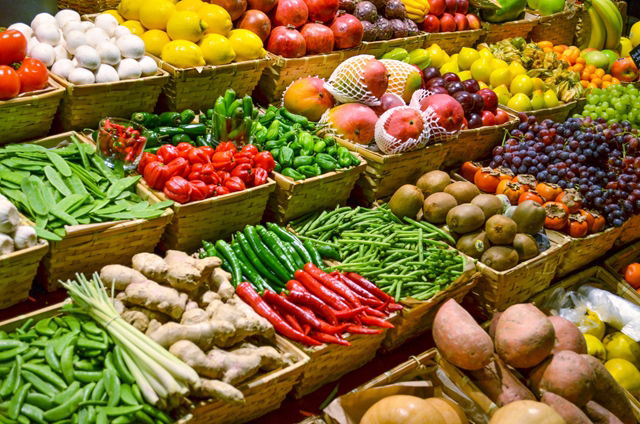 For years health experts have told us we need to eat at least five pieces of fruit and vegetables a day.
But now they've changed their tune and say we should actually be getting seven daily portions of fruit and veg.
According to a new report, that sued data from 65,000 adults, the current "five-a-day" recommendation is inadequate.
The report says that certain drinks, tinned, frozen and processed fruit and vegetables should not be counted as part of the suggested intake – and even says that these products could decrease life expectancy. 
The research, carried out by the Journal of Epidemiology and Community Health, says that eating seven or more portions of fresh fruit and vegetables a day will give people the best possible chance of keeping ill health at bay.
The report concluded that canned fruit is 'not good for health' and vegetables pack more of a protective punch than fruit.
The report stresses that having a diet rich in fruit and vegetables is heavily connected to being in good health.
A high intake of fruit and vegetables in the diet is recommended to boost cardiovascular health, but the evidence for its impact on warding off cancer has proved less clear-cut.
Managing to eat at least seven daily portions was linked to a 42% lower risk of death overall. For cancer specifically the risk was lowered by 25%, and for heart disease and strokes the risk decreased by 31%.
But while fresh and dried fruit appears to strongly reduce the risk of death, just a solitary portion of processed, frozen or tinned fruit seemed to increase the risk by 17%. 
Dr Oyinlola Oyebode, UCL lead researcher, said: "What we found was that the most beneficial is fresh fruit, dried fruit, salad and vegetables.
"Canned and frozen fruit were not good for health. Nutritionists say they have just as many micro-nutrients and just as much fibre in them, so it's possible it is to do with canned fruit having a lot of sugar."
The findings suggest that the general dietary guidance we receive at the moment, which encourages the consumption of tinned fruit, smoothies and fruit juices as easy ways of attaining the "five-a-day" goal, might need to be revised.