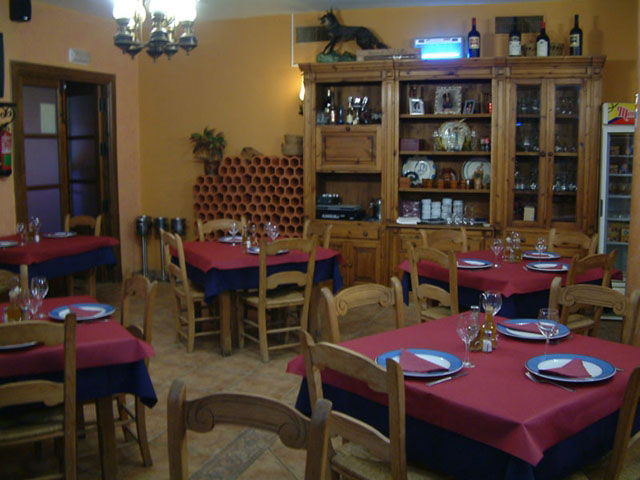 Hostal Meson Arboleas, located just a few metres off the A-334 (Baza-Huercal-Overa), is a convenient venue in Arboleas ready to cater to all your restaurant and lodging needs.
Beginning with lodging: The hotel itself has 11 bedrooms, fully equipped with a wide range of amenities including telephone, internet, air conditioning, television and mini-bar that supplement the adjoining cafe and restaurant facilities.
Facilities are suitable for persons with disabilities, including rooms, toilets and access to outdoor grounds.
Bicycles are available for hire as a unique service, either with a guide or solo, offering a convenient option for those wishing to take to the road for some fresh air.
Private parking assures the security of your vehicle and belongings while you enjoy yourself inside.
In the 'meson' restaurant, the cooks are proud to offer a wide variety in all kinds of tapas, including tapas with fish, pork, chicken and beef.
For main lunches and dinners you can expect hearty, home-cooked meals that, among other things, might feature roasted chicken or rabbit.
Paella is one of the dishes of the house for those who like traditional Spanish fare.
The Meson also features more casual food as well, including pizzas, hamburgers and the popular 'montadito' sandwiches which always go down well!
The daily 'menu' changes day to day and offers a great value for the money.
Home delivery for hot meals is also available.
For smaller side dishes, there is always plenty of salads available as well as traditional Spanish tortilla and vegetable dishes.
As far as space inside the restaurant, there is ample room for all kinds of large gatherings including weddings, baptisms and more.
With room for 150 people, Hostal Meson Arboleas is a great venue for any manner of large meeting, whether business or personal.
The cafe alongside the restaurant is an additional space for meetings and private parties, while the outside terrace complete with barbecue is perfect for warm evenings with food and drink.
Full bookings available through the Hostal Meson Arboleas website.
Hostal Meson Arboleas
Av. Venta Mateo
04660 Albox
950 430 137