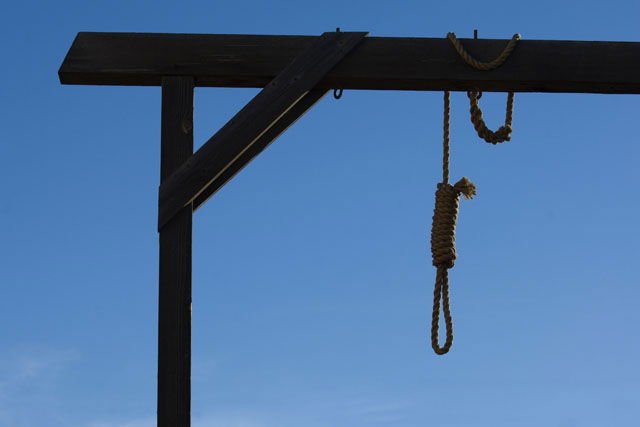 According to Amnesty International, there has been a "sharp global spike" in the number of people being put to death.
The human rights organization said that almost 100 more people were executed in 2013 than in 2012, a rise of almost 15%.
In 2013 at least 778 executions were carried out in 22 countries.
Amnesty International Secretary General Salil Shetty said: "Only a small number of countries carried out the vast majority of these senseless state-sponsored killings.
"We urge all governments who still kill in the name of justice to impose a moratorium on the death penalty immediately, with a view to abolishing it."
The organization has revealed that the main offending countries were: Iran (369 executions), Iraq (169), Saudi Arabia (79), the United States (39) and Somalia (34) are top of the list.
The world-wide increase is in part down to an increase in executions in Iran, Iraq and Saudi Arabia – which account for 80% of the total.
Worryingly though, the figures do not include the thousands of people put to death in China, where such information is a state secret.
And the group admitted that it could not confirm the figures for Syria and Egypt, countries which are seeing instability and an increase in violence.
The report comes in the wake of news that an Egyptian court has sentenced 529 pro-Morsi supporters and Muslim Brotherhood members to death.
Amnesty blasted the decision "grotesque".
There were many main reasons for the executions, some of those reported included adultery in Saudi Arabia; blasphemy in Pakistan and economic crimes in China, North Korea and Vietnam.
In secretive state North Korea, people were allegedly executed for pornography, escaping to China and watching banned South Korean videos.
Execution methods included beheading in Saudi Arabia, electrocution in the USA and lethal injection in China, Vietnam and the US.
Amnesty International said that some countries were listed as using hanging and shooting as means of capital punishment, although there were no reported executions by stoning.
Amnesty say that more than 23,000 people were recorded as being on death row in 2013, and at least 1,925 people were sentenced to death in 57 countries.
The group pointed out though that, despite the shockingly high numbers, only around one in ten countries carry out executions and 140 are against the death penalty altogether.