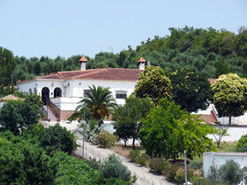 "One of the world's Top 10 rehab centres," according to Global Healthcare Magazine!
Founded in 1999, Serenity House is the longest established English-speaking treatment centre in Spain and was recently identified as one of the world's top 10 rehab centres by Global Healthcare Magazine.
Four years ago, Chris Spencer and Anita Cragen took over the Centre and its reputation grew quickly, given Chris and Anita's passion about recovery.
The Centre helps people with all sorts of addictions including cocaine, sex, gambling and drugs.
Chris has worked in addiction over 20 years and Anita is a 12-step therapist who had been in recovery for over 10 years and who has since helped hundreds of individuals recover.
Though they can house up to 12 clients, they accommodate only five at a time, making treatment exclusive to each client.
Serenity House offers full board accommodation; clients also have access to their own kitchen.
Facilities are modern, with latest multi-media technology and in a comfortable setting.
The programme is dynamic and statistics of recovery are high.
After admission, the client is assessed and given a timetable, after which a flexible programme is mapped out, changeable according to progress made.
It is important that the client has a clear idea of the stages of the recovery process, a process that may save their life in the future.
As a world leader in the 12-step programme of recovery, Serenity House has been sought after and has worked in various parts of the world.
Clients have said: "I arrived lonely, scared and sceptical. A month later I am leaving having re-found the person I had lost. I am happy, strong and looking forward to enjoying life" (Kate, UK).
"As someone highly sceptical of the idea of rehab, Serenity House has convinced me… I feel as if I had rid myself of all the weight I have been carrying most of my life" (Jean, France).
Serenity House's clients come from all walks of life all over the world with one thing in common: The inability to stop using drink or drugs combined with the desire to seek expert help.
Contact Serenity House today.
Serenity House
956 127 371, 659 887 798