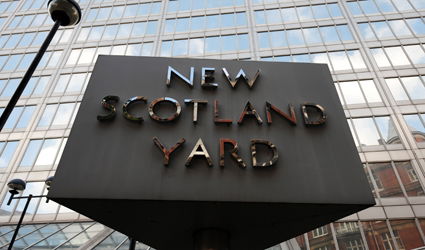 THE recent report concerning the 1993 racist murder of Stephen Lawrence exposed damning evidence of corruption, spying and cover-ups by the UK's Metropolitan police force.
Now, it's easy enough to live in a monastery and remain squeaky-clean. A lot harder for a cop to spend his life at the mercy of very dangerous, wealthy and cunning criminals in order to provide his employers with enough information to convict them without becoming involved and compromising himself. 
So, yes, I accept it's hard to remain decent and above the daily grind, and all-too-easy to spot an advantage in adopting a criminal outlook especially when 'keeping in' with the right people is necessary to obtain information. The police and the underworld are two sides of the same coin and have a symbiotic relationship.
Maybe I should 'fess up an interest here. As a writer of crime novels, I freely admit I'm attracted by crime and all it entails. From lurid descriptions of crime scenes to the gruesome details of post mortems. And given the opportunity to talk to criminals, I'd jump at it for the first-hand information they'd provide. But that's as far as it'd go. Not so with the Met from all accounts.
The charge sheet gets ever longer, doesn't it? Hillsborough (the Met's current Police Commissioner, then a South Yorkshire police inspector, is the subject of two separate IPCC investigations), Ian Tomlinson, Plebgate, Stephen Lawrence, to name but a few scandals. Basically, it's not just one rotten apple here but a whole barrel full. The Met isn't fit for purpose and, until its institutionally rotten system is reformed, it simply can't be trusted.
Because of the toxic combination of poor leadership and lack of public trust, what's needed, at minimum, is a massive clear out at the top. This isn't about fairness or efficiency but about rebuilding the public's trust since, without it, the police can't function. I realise this sounds extreme but extreme situations require extreme action and the present situation is one such.
Corrupt police, politicians who 'cook the books', welfare workers who don't give a damn about the people they're supposed to care for such as children and the elderly, the NHS falling apart, the BBC run by obscenely-overpaid supremos. Where is it all going to end?
Nora Johnson's thrillers 'Retribution', 'Soul Stealer', 'The De Clerambault Code' (www.nora-johnson.com) available from Amazon in paperback/eBook (€0.89;£0.77) and iBookstore.Profits to Cudeca