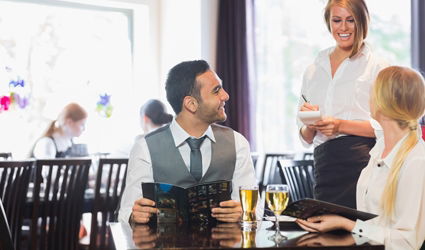 RUNNING a profitable bar or restaurant in a cut-throat fast moving environment requires considerable understanding of the licensed trade.  But, like politics everyone thinks they can do it. It sure tells. 
The successful licensed trade runs best on change. We do have fine restaurants serving Costa communities. Sadly these are outnumbered by bars and cheap cafés that evoke a perception of tackiness.  
Despite the absence of sub-tropical rival destinations, and with 730 million Europeans on its doorstep, Costa Spain struggles. Do millions of modern Europeans recoil from the 1960s time warp Costa lifestyle?  
My wife and I were recently invited to a function held in a café; I refuse to call it a restaurant. 
You know the type; coarseness, strobe disco lights, overflowing ashtrays, tin or plastic advertising chairs and tables, the latter covered by paper tablecloths. Wearily we peer at stained sun-bleached laminated menus that list pre-prepared over-priced junk food; my compliments to the microwave.  
For entertainment kara-crokey and B side 1960s 78 rpm vinyl records.  If I hear Knock Three Times or Sweet Caroline one more time I swear someone will swing for it. No, not that kind of swing. Conversation is impossible when competing with TV monitors and a bawling disc jockey.  
My wife cringed as 'mine host' went from table to table sweeping the leftovers into a bin bag. He was dressed in jeans, grubby shirt and trainers. It was a depressing new experience for her. I too winced, though I have seen it all before.  
Sadly the image it creates abroad is that of poor taste and vulgarity.  Many such eateries are a time capsule for hi-de-hi entertainment at Britain's 1960s holiday camps and seaside resorts. It doesn't have to be like this, nor does it have to be drink-sodden youngsters spewing across over-priced city centres.  
Ten years ago my home city's night life offered a rich assortment of classy internationally themed eateries, attractive bars, stylish restaurants, bistros and bars. 
These were frequented by ordinary people who welcomed the opportunity to dress cool, stylish and look their best. There was a refreshing absence of boorishness.  
Such bistros and stylish wine bars, many of ethnic ambience, were perfect for business meetings, romance or socialising. I took many Spanish visitors to a continental eatery in my home city: "Why can't we have places like this," they asked.
In December I visited a vibrant Bristol where one had difficulty booking a table. Restaurants were far more chic, expensive and busy than those of Med-Spain. In such watering holes, melodies were unobtrusive and televisions definitely none-u. Busy throughout the week whatever the weather, when for nine months of the year Costa bars are quiet.
It is time for Spain to play catch up, not just with Britain but with much of Europe. We really do deserve far better than what is on today's menu.