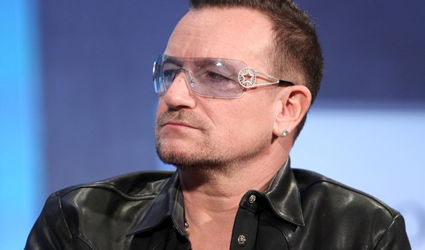 Bono – he of U2 and not Jose Bono, former minister of Defence and Speaker of the Spanish parliament – wants to help Spain.
"This week Rajoy has urged the EU to introduce structural reforms to create liquidity for the Spanish economy," Bono told his captive and captivated audience at the European People's Party congress in Dublin. 
He suggested launching a pro-Spain campaign to all present, including Angela Merkel.
There goes Bono the World Saver again, convinced that a few words from him will do more than Spain, Brussels and the ECB together.
Unvarnished truth
AFTER the destruction of the World Trade Centre it emerged that Mohamed Atta spent 10 days in Spain in July 2001.  
He piloted one of the planes that hit the Twin Towers on September 11 2001 but if it was ever discovered who Atta met, no-one is letting on.
In 2011 his visit confirmed the official view that although jihadists were present, Spain was a staging post for onward journeys and a source of income via robberies, credit card fraud and drugs dealing.   
Spain, it was thought until March 2004, was safe from attack and warnings of jihadist activity from the Guardia Civil were discounted by the Intelligence service.  
Even on March 11 when jihadist bombs killed 191 people on four commuter trains, the government refused to accept any hypothesis other than an ETA attack.
Days later its continued insistence lost the PP the general election, not because the Spanish caved in to terrorism as the international pro-Iraq war faction claimed, but because voters were lied to.
Ten years later the same old conspiracy theories are trotted out again by those who spread them at the time.  They will always be more attractive than the truth, especially amongst bad losers.
Not rocket science
SPAIN and the UK should both understand the majority of Crimea's population unwilling to become part of Ukraine. The Falklands, Gibraltar, Ceuta, Melilla and the Canaries all have populations reluctant to be swallowed up by their theoretically rightful owners.
Forget sovereignty and geographic coherence, feelings come into this equation, too.  But trouble starts – and this is hardly algebra – when gas pipelines and naval dockyards skew the calculations. 
Leaders of the pack
ARANTXA QUIROGA, newly-named president of the PP in the Basque region, wanted to choose the regional secretary general. Alfonso Alonso, Speaker of the national parliament and influential in Euskadi, wanted to impose his choice, backed by vice-president Soraya Saenz de Santamaria.
Quiroga, steelier than opponents suspect, got her own way, although not totally unaided: she was supported by Dolores de Cospedal, the PP's national secretary general.  However much she wanted to help Quiroga, it's not farfetched to assume that De Cospedal was happy to use this situation to challenge Saenz de Santamaria yet again.