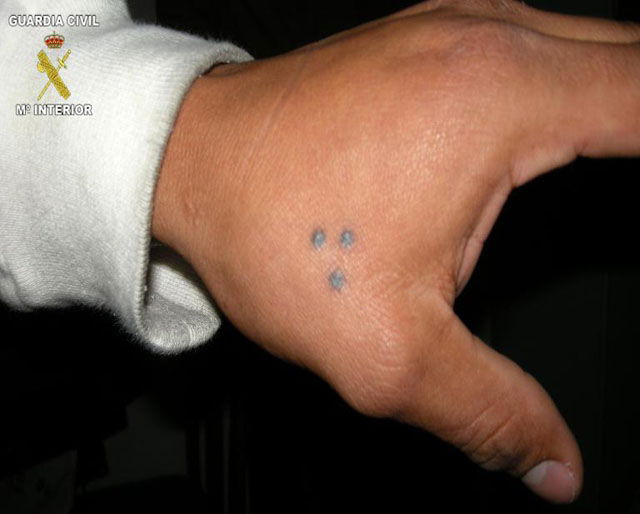 Spain has seen a rise in violent Latin American-linked street gangs since the start of the economic crisis.
Financial hardship, combined with increased immigration, has meant a sharp increase in violent street gangs born in South American countries.
Spanish police have arrested 35 suspected gang members from 17 to 25 years old from a group which began in El Salvador in a major crackdown on Spain's South American-connected criminal organizations.  
Police said that around 300 Guardia Civil officers carried out 28 raids on Monday in a strike against the infamous Mara Salvatrucha, or MS-13, gang.
A police statement said: "MS-13 is a dangerous and violent criminal organization well represented in several American countries where they cause serious security problems and destabilisation, especially in Central America, and which is trying to set itself up in Spain."
Some of those detained bear distinctive tattoos to show loyalty to the gang they are affiliated with.
Police seized knives, fake guns, guns and documents in the raids which took place in several Spanish regions, including Madrid and Barcelona.
Other raids took place in Alicante, where the stabbing of a South American man in 2012 sparked a police investigation into MS-13 in Spain.
The gang-members arrested were Spaniards, as well as nationals of San Salvador, Romania, Ecuador, Bolivia, Honduras, Pakistan, Bulgaria and Morocco.
Police estimated there are around 300 street gang members in Madrid, the Spanish capital, mostly aged between 14-25 years of age, and based in the poorest areas.
Police described the street gangs as "a form of apprenticeship, a school for delinquents."
The crackdown comes out of fear that the gang members are very likely to progress to more serious organised crime.
Police said that, at the moment, "Their main goal is to show their bravery, to be respected. They are not looking so much to make money."
In the near future though, these members could move on to other, more lucrative, pursuits – like drugs and arms trafficking.  
In Barcelona, the number of gangs in the city is growing. Police in the Catalan city have recently raided members of the Latin Kings, Bloods and Black Panthers.