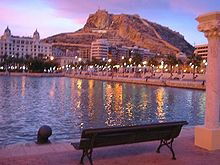 The Costa Blanca intends its relations with Russia to remain unchanged.
As the EU and US announced sanctions following Russia's annexation of the Crimea, regional president Alberto Fabra immediately cancelled visits to two Moscow tourist trade fairs.
But commercial relations with Russia are too important to be jeopardised, said the hoteliers' associations Hosbec, the Asociacion Provincial de Hoteles and Provia.
"Russia is a very important market and we must consider this from a professional point of view," said Cristina Rodes, president of the Asociacion Provincial de Hoteles.
"I have always believed that promotion should be left to the technicians, to those in the know. The presence of politicians isn't so important.  The more normal things are, the better," Rodes added.
Antonio Mayor, president of Hosbec, the largest association of its type in the Valencian Community, was of the same opinion. 
The EU-Russia crisis "isn't going any further," Mayor said and if the rouble stops falling against the euro, there will be few Costa Blanca cancellations, he predicted.
Fabra's absence from the Moscow fairs is "irrelevant" he said, so long as the Generalitat continues to promote the region in Russia which in any case is in its best interests.