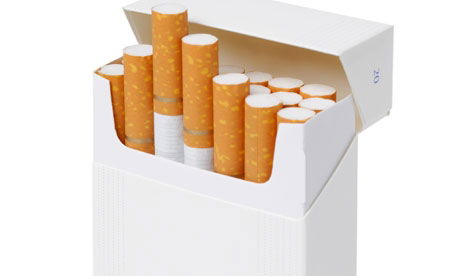 New research shows that unbranded cigarettes may not stop people from smoking.
The study was carried out in Australia where cigarette packets are already unbranded.
The group found that plain packaging could lead to a rise in cigarette sales as smokers, and potential smokers, will no longer worry about buying expensive brands.
In Australia the figures suggest that the amount of tobacco delivered to retailers has actually risen since the move to plain packaging was introduced in December 2012.
Many Australians may have switched to buying cheaper brands now – and the study suggests that they may be buying more than in previous years.
All over the world health campaigners have been arguing for plain packages, saying the move will protect children and potential new smokers who are attracted to brightly-coloured, attractive branded packaging.
In the UK, Parliament has long been toying with the possibility of a ban on branded packaging.
In November 2013 an independent review of branded packaging was ordered to find out whether the ban would actually be effective. 
The issue is still under consideration, and no date has been given as to when a ban might be introduced in the UK.
However, some are questioning the findings.
Deborah Arnott, Director of Action on Smoking and Health, feels that the data could be a deliberate attempt to promote the agenda of the cigarette and tobacco companies.
She said: "We are repeatedly seeing attempts to undermine the case for standardised packaging.
"It is about dissuading them from taking up smoking – and one year's data from Australia about delivery levels of tobacco tells us nothing about that."