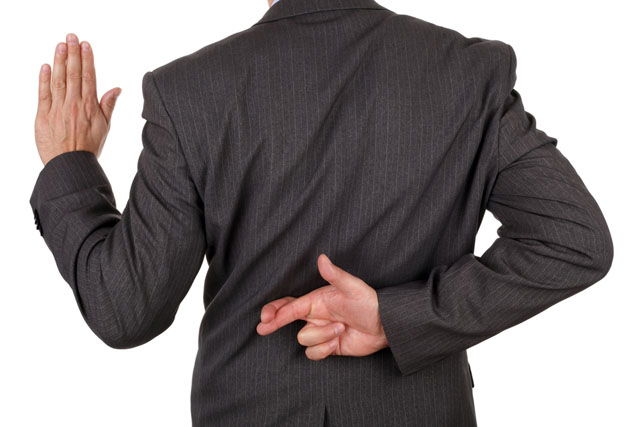 We've all had times where we've wondered whether to go with our head or our heart.
Well, scientists have now determined that we should actually go with our gut – especially when it comes to detecting lies.
A new study has found that we should go with our instinct as the initial gut reaction is better at identifying a liar than our conscious mind.
The researchers say that, when it comes to detecting deceit, our initial and automatic feelings may be more accurate than conscious thought in helping us to sort truths from lies.
The findings, published in the journal Psychological Science, suggest that conscious awareness may actually hinder our ability to tell whether someone is lying to us.
We tend to notice behaviour that is supposedly stereotypical of liars, like fidgeting or avoiding making eye contact. However, this sort of behaviour isn't always indicative of someone being untrustworthy.
Other factors come into play sometimes – like nerves.
Psychological scientist and lead author of the study, Leanne ten Brinke, of the University of California said:
"Our research was prompted by the puzzling but consistent finding that humans are very poor lie detectors, performing at only about 54% accuracy in traditional lie detection tasks."
This means that the accuracy level is little better than chance and guesswork as to whether someone's lying.
This result seems somewhat at odds with the fact that human beings are typically sensitive to others in terms of how they are feeling, what they are thinking and what their personalities are like.
The experiment involved 72 people watching videos of 'suspects' in a mock-crime interview. Some of the 'suspects' had 'stolen' a $100 bill from a bookshelf, whereas others had not. 
All of the suspects were instructed to tell the interviewer that they had not stolen the money. 
When it came to the 72 participants being asked to say which suspects they thought were lying and which were telling the truth, the participants were only able to detect liars 43% of the time and those telling the truth only 48% of the time.
Participants fared better at detecting the 'liars' when they went with their gut instinct.
Dr Brinke said: "These results provide a new lens through which to examine social perception and suggest that – at least in terms of detection of lies – unconscious measures may provide additional insight into interpersonal accuracy."