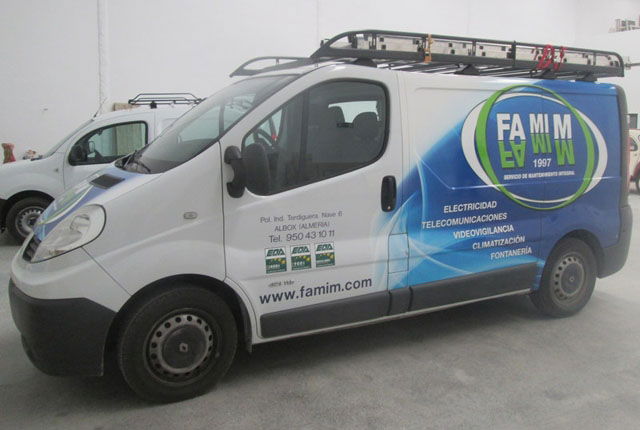 Founded in 1997, Famim in Albox has gone from strength to strength through hard work and the quality and commitment of the staff.
The result is a real success of a maintenance and cleaning company that is proud to offer a wide range of services.
First, its garden maintenance service, performed by Famim's experienced gardeners, is an especially useful service for people spending time away but who need the garden kept in order.
Plague control is a second expert service.
Famim solves your insect and rodent problems, and wood treatments and pigeon determent are also offered.
Famim's complete cleaning service is available for offices, schools, community centres and private homes.
Complete maintenance service includes services like window cleaning and graffiti removal.
In the general maintenance department, Famim is an official partner with insurance firms like Mapfre and Allianz.
It is an authorised installer for air conditioning, plumbing and electrical work and can fit out a property from start to finish, including utility company paperwork.
Floor treatments (marble, natural stone, granite) are also performed.
As expected from a professional company, Famim holds four quality certificates, including 1) confidential destruction and security of information for paper, plans, documents and drawings, 2) quality control systems, 3) environmental systems and 4) health and safety at work.
These certificates ensure that all work is high standard environment-friendly.
The Famim shop, run by Maria Jose, supplies professional hospitality products to the general public as well as to bars, shops and hotels.
The product range includes cleaning products, fragrance and soap dispensers, mops, buckets, bins and air fresheners.
The shop also sells electrical goods, cables, boxes and air conditioning units.
Special current offer: LG Air Conditioning Unit with 3000 frigories, €550+IVA.
For information on available products and services, contact Maria Jose or Antonio.
Open Monday-Friday, 8am-1.30pm and 4pm-7.30pm
The shop and head office are located on the Albox Poli Industrial Terdiguera Estate Nave 6 (across from ITV).
Second Albox office is on Calle de Carmen Romero Molina, off Avenida America.
Famim
Albox Poli Industrial Terdiguera Estate
Tel: 950 431 011
famimalmacen@gmail.com (Maria Jose)
mantenimiento@famim.com (Antonio)