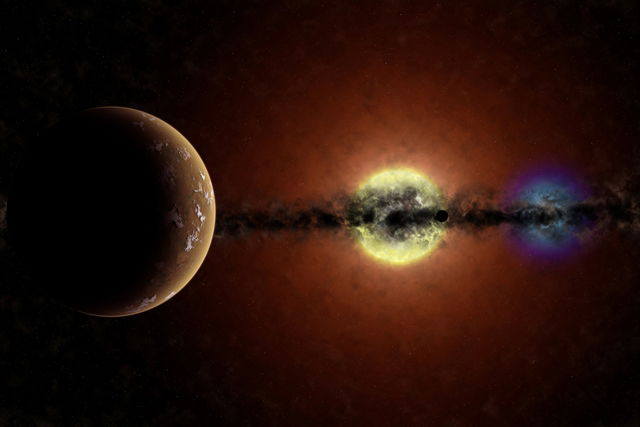 The search for extraterrestrial life in our universe has been given a huge boost as scientists have discovered a planet that's not too different from our Earth.
Using data collected by the Kepler space telescope Astronomer Thomas Barclay from Nasa's Ames Research Centre in California found the planet, which is habitable and almost the same size as Earth.
The planet, which is as yet unnamed, was found orbiting an unidentified star in a so-called Goldilocks zone.
This is a region that emits just enough energy, light and the correct temperature for liquid surface water to appear.
The announcement was made by Mr Barclay during the Search for Life Beyond the Solar System conference in Arizona. 
With the help of the Kepler telescope, Mr Barclay said he believes he has found a new star system consisting of five planets orbiting an M1 dwarf star. 
M dwarfs, also called red dwarfs, are stars that are much smaller and dimmer than Earth's sun. They aren't bright enough to be seen with the naked eye and they make up around 70% of all the stars in the galaxy.
Our sun is a G dwarf – this type of dwarf accounts for only 5% of stars in the universe. 
Even though other Earth-like planets have been previously discovered, Barclay's unnamed goldilocks planet is believed to be the closest in size to our own.
Nasa's Kepler mission launched in 2009, with its sole purpose being to scour the skies for Earth-like planets. 
More information about the findings is due to be released later this year.
Since 2009 Kepler has detected nearly 3,000 candidate planets outside of our solar system.