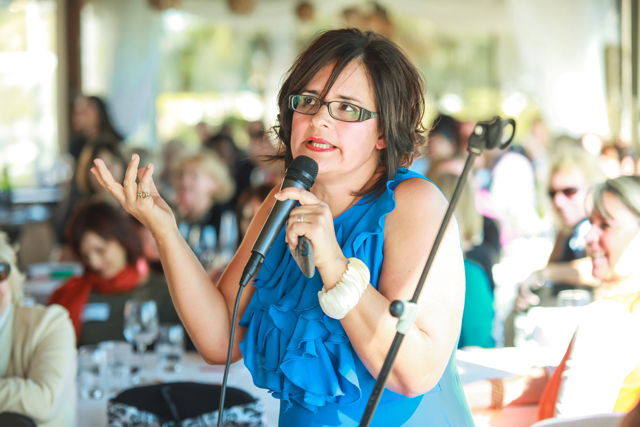 The lady in the photo is Glynis German performing last week at the International Women's Day event I organised at Mood.
I've known Glynis since I moved to Mallorca. I always say that Glynis was there for two of the most important days of my life so far: she featured in my wedding when I asked her to translate the service from Spanish into English for our guests (they all thought she was the Mayor and was actually marrying my husband and I!)
Then she helped me when I was in labour with Gidg, she translated for me and tried to keep me together whilst everything around me was going a tad awry.
So far neither of these events have been used as material for Glynis' new career: these days our Glyn is making her way as a stand-up comedian. She's been working towards this since she did a course in Barcelona with a professional stand up and teacher, Logan Murray, a few years ago.
Glynis is one of those people who makes it look really easy to tell jokes, and that's where her skills lie because it is not in any way easy to be deliberately funny and it takes hours and hours of work and practice to get the delivery and timing right.
She's started to get bookings in other parts of Europe now so good luck chick, we're rooting for you!
Now she brings Logan over to Mallorca once a year to run a course for any other people who want to be stand ups, comedy writers or improvisers and they do a show at the end of the course. I did mine last year and I absolutely loved it.
It collided badly with the very serious forest fires in Andratx so I was quite distracted that weekend and didn't ever get around to telling the gentle readers of Family Matters about how it went.
Well:  it was terrifying, exhilarating and addictive. As soon as I had been onstage for my eight minutes of fame I felt like I could have leapt over a house in one bound, it was a fantastic feeling of achievement.
Making people laugh is a drug.  I harbour an ambition to get back up there and do some more, but wow those nerves before you go on the stage! If you want to challenge and push yourself then do it.
Or if you've ever thought, "What's all the fuss about, I can do that", then do it.
The courses this time around could well be full by now but you can contact Glynis via my blog www.familymattersmallorca.com if you want to get more information.
Or come along on Sunday (March 23rd) night and see the merry band of brand new comics testing out their brown trousers as they make their debuts on the Sa Botiga de Buffons in Palma.
Doors open at 8pm for a prompt 9.30pm start (info and address on my blog).