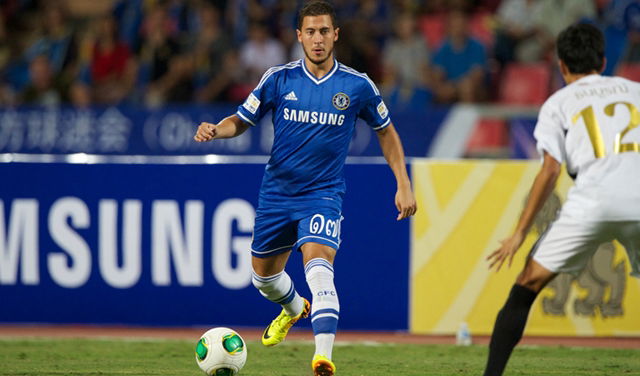 Chelsea FC star Eden Hazard has said that he hopes his side draws either Barcelona FC or Real Madrid in the Champions League quarter-final draw on Friday.
While most players would pray to avoid the likes of the Spanish giants in the draw, the Belgian winger is eager to test his skills up against arguably the two best players in the world – Cristiano Ronaldo and Lionel Messi.
Hazard said: "For me, for a young player, it's very important to test myself against Ronaldo or Messi."
"Just to be on the pitch with them would be good and I would try to do well.
"It's an aspiration for me to be as good as Ronaldo and Messi. I watch a lot of games they play in and I try to be on the same level.
"I want to score more goals. Sometimes I play good but don't score. To be the best player in the world I have to score more.
"It's just in my head – I have to shoot more. I can make the pass, I can shoot and sometimes I pass.
Hazard, a former Lille player, has been tipped to achieve great things during his career by manager Jose Mourinho.