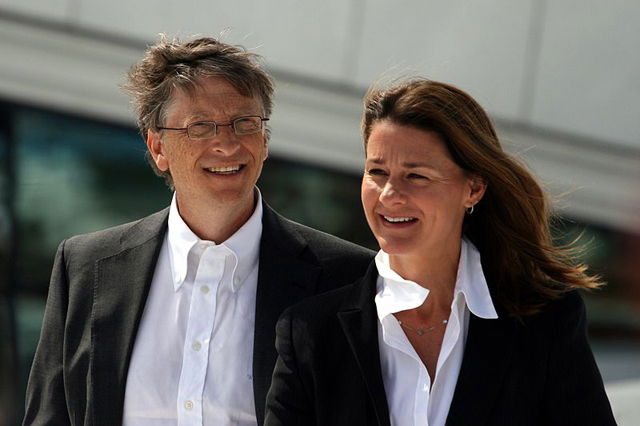 As the world's richest man, with a personal fortune of $76 billion, you might expect Bill Gates to have set up sizable trust funds for his children.
But the Microsoft founder will not be leaving all of his wealth to his three children.
The multibillionaire and his wife Melinda opened up about their personal lives at a TED conference in Vancouver.
The pair said their children will be encouraged to make their own way in the world – without the security of billion-dollar trust funds.
Gates said that instead of money, they had given their two daughters and son a good education so that they can make their way in the world by relying on their own abilities rather than their parents' fortune.
Conference organizer Chris Anderson said: "You've easily got enough money despite your vast contributions to the foundation to make them all billionaires."
According to Wired, Gates responded: "They won't have anything like that. They need to have a sense that their own work is meaningful and important. 
"You've got to make sure they have a sense of their own ability and what they're going to go and do."
Anderson likened raising three children in the world's richest family 'to a social experiment without much prior art'.
He asked the couple how they had decided to raise their family.
Gates said: "We want to strike a balance so they have the freedom to do anything but not sort of a lot of money showered on them so that they can go out and do nothing."
He added that they have already told their children that most of their fortune would be left to their charity, the Bill and Melinda Gates Foundation, which tackles poor health and poverty.
Melinda Gates also used the occasion to give details about a Tanzania trip she made with her eldest daughter Jen. 
The two stayed with a family in a rural area in order to learn more about how barriers to education are faced by girls in the country.
Melinda Gates showed slideshow photos of their time in Tanzania, as well as pictures of her children. 
Although the couple are very private, and rarely discuss their private lives, Melinda said the children had agreed to their pictures being shown in order to show their support for the charity. 
The couple said that their parenting style was inspired by philanthropist Warren Buffett, who has taken a similar approach with his children. 
Like Buffett, the Gates have joined the Giving Pledge, which is committed to diverting personal wealth to philanthropy.
They argue that leaving a huge sum to their children is no good for either their families or society.